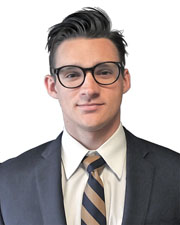 Name: Chandler Slate
Company: Tri State Commercial Realty
Title: Senior Director
Education: Bachelor of Science in Material Science Engineering, Virginia Tech
How do you contribute to your community or your profession?
I truly believe that giving back is the best way to pay it forward. I am currently an Executive Board Member for Boy Scouts of America in the Brooklyn Council, after having earned the rank of Eagle Scout during my school years. The BSA works within the community to provide necessary volunteer assignments, while giving the young people a chance to develop self-confidence, leadership and ethics. The Boy Scouts has brought me to where I am today and I endeavor to help other young people along the way.
What led you to your current profession?
How does a former material science engineer from Patrick County, Virginia become a commercial real estate agent in NYC? Short answer, fall in love. I followed a girl, who became my fiancé and will soon be my wife. I was interviewing with commercial brokerage firms around the city, and ended up crossing paths with Tri State Commercial. I found a team there that was more interested in my success than lining their pockets. The systems there empowered me to become the broker that I am today.
Which project, deal, or transaction was the "game-changer" in the advancement of your career?
I would say that the career changer for me happened last summer (2019). I had the opportunity to work with one of the most cutting-edge retail companies called WOODstack, which uniquely serves the inner-city customer with street wear retail that is innovative and storytelling. The founder and I connected during my first year in commercial real estate, and he was the first person who believed in me when I told him, "I will find you your space." Meanwhile, every other broker in Brooklyn was calling him. After two years of hunting and calling every landlord on the targeted blocks, we got it! The perfect 7,500 s/f that fit his exact need. Yes, it was a good size lease and a new record for me at the time, but I'll never forget the feeling that came with knowing I worked hard and had earned my client's trust. Now, I can honestly tell my team and my other clients that perseverance wins. I am able to confidently tell all my clients that sign up with me that I will put in the work like no one else, until I get them exactly what they need to grow and be successful.
What do you like most about your job?
Every day, I feel like I go out and crank the engine of commerce. Whether that is helping someone open a new hip coffee shop, restaurant, daycare, you name it, I know that every person who opens their doors is supporting their families and those of their employees. I get to play my small role, and I'm grateful for it.
What can our political leaders do to increase equality in the workplace?
I don't really talk politics–I just believe everyone deserves a fair shot at a better life.
Who or what inspires you?
I am constantly inspired by my father. He is coming up on his 80th trip around the sun and is still running a farm single-handedly after having retired from teaching and the USDA. I can only hope that my drive continues for as long as he has sustained his. He has always conducted himself with integrity, and he taught me to do the same. When he comes to visit, I always bring him on all of the property tours.
If your life were made into a movie, what actor would you want to portray you?
I would say Matt Damon. He's someone everyone can relate to, so much so that Forbes even named him the most bankable actor in 2007. If he played me, I know the movie would be a hit!
What social media platform do you use the most professionally?
I don't think there is a separation of professional or private any more. I have clients that have told me they picked me because they saw who I am on Instagram. I post what I like.