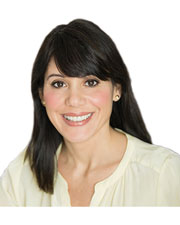 Name: Alison Luisi
Company: RM Friedland
Title: Vice President
Education: BA Bucknell University
What led you to your current profession?
I began my professional career as trader at a major investment bank on an international equity desk. I enjoyed being one of the few female traders in a role that was historically slated for men. The trading floor which was driven by competitiveness and the ability structure deals, was an environment I thrived in. When changing careers, I sold this skill set and a top broker took a chance on a 40+ woman with only finance experience. My manager believed that my skill set could be translated to the investment side of commercial real estate. So, here I am, five years later structuring land deals for senior housing and multifamily developments.
Who or what inspires you?
A multitude of actions, ideas and personalities inspire me. It's not only the accomplishment but how the goal is met. Ambition keeps me inspired. When I am around driven people who meet their goals, it gets me excited to achieve more. Additionally, people that have broken through barriers are motivating. I consistently utilize stories of individuals and teams striving to accomplish their goals to set the standard for my work and life. Managing a task and setting out to do it confidently and with positive energy fuels inspiration. In addition, I enjoy being around people who happily celebrate the success of others, as this demonstrates their own power and strength.