Name: Thomas Kearns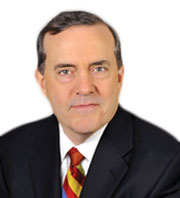 Company: Olshan Frome Wolosky LLP
What was your greatest professional accomplishment in 2019?
2019 brought together an unusual amalgam of philanthropic and professional "giving back" opportunities. I led the Olshan delegation to the Legal Action Center's benefit this year. I was part of the Olshan seminar for Chinese lawyers on U.S. law, hopefully making an impact on personal and business relationships between our countries. I created and chaired an in-house continuing legal education seminar on the emerging law of corporate responsibility with colleagues. I was honored to be elected to the board of the New York Landmarks Conservancy, a not-for-profit that works on behalf of New York's architectural history and helps building owners by providing technical advice, financial aid, and education and to serve as the Conservancy's board designee on the Historic Properties Fund, a separate not-for-profit that offers loans and project management assistance to owners of historic properties.
What was your most notable project, deal, or transaction in 2019?
I was honored to be retained as lead counsel on a $120 million refinance of a portfolio of ground leased Manhattan office buildings.
What are your predictions for commercial real estate in 2020?
New York will continue to be a center for U.S. and global business and will continue to flourish through the inevitable economic ups and downs.