Name: Scott Pavick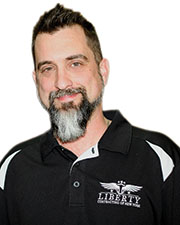 Company: Liberty Contracting of New York, LLC
What was your greatest professional accomplishment in 2019?
Our greatest accomplishment certainly was a 40% increase in growth. Our growth allowed us to diversify our client portfolio a great deal within the commercial construction industry, especially in the private sector.
What was your most notable project, deal, or transaction in 2019?
I think it was twofold. Completing and attending a ribbon cutting ceremony for our 12,000 s/f Jewish Community Center. Completion was most fulfilling with such a warm reception of individuals thanking Liberty for making their dream come true. Second is our client Care for The Homeless. Working with their facility to continuously upgrade their spaces for better operation provides a satisfaction of being part of such a great organization in helping our homeless here in New York. I have to include our 11,000 s/f Golden Corral Restaurant which is now the first in the NYC metro area! An accomplishment we are proud to be a part of.
What are your predictions for commercial real estate in 2020?
I think that technology upgrades within existing buildings and flexibility in tenant fit outs is what may start treading. Upgrades in existing real-estate is what we are beginning to see and hopes for the trend to continue and what we are excited about flourishing.