Name: Michael Hardesty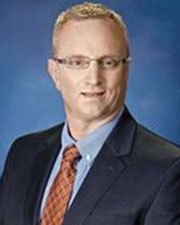 Company: John Bouck Real Estate
What was your greatest professional accomplishment in 2019?
Becoming a full-time agent.After fine tuning my craft over the last two years, the opportunity of a lifetime presented itself. I have been fortunate to have one of the most respected brokers in the area as my mentor.
What was your most notable project, deal, or transaction in 2019?
The sale of 81 All St. in Auburn. The building had been vacant for some time and was in disrepair. Working with Cayuga Community College, the building was purchased and transformed into Cayuga Child Care. This vibrant center has re-energized the surrounding area. To have played a role in uplifting this area is what motivates me.
What are your predictions for commercial real estate in 2020?
The vacancies left behind by brick and mortar stores succumbing to online retailers have opened up opportunities for mixed-use properties, which are poised to dominate the commercial landscape. Developers have become increasingly creative, combining commercial/residential/professional under one roof. The demand is there, and this trend will only gain momentum in 2020.