Name: Luise Barrack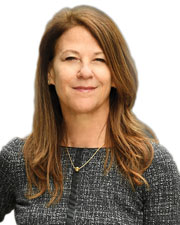 Company: Rosenberg & Estis, P.C.
What was your most notable project, deal, or transaction in 2019?
I worked with core clients on numerous projects. One notable project included working alongside a client during the array of steps to enable it to be able to demolish an outmoded former Village hotel to facilitate its creation of ground up contemporary construction that will house creative and collaborative commercial space. Among the complex and notable litigation I was involved in was a multi-million dollar lawsuit, including claims of, inter alia, fraud by a luxury retailer, which was not paying its $4 million a year rent and asserting an interest in our client's midtown Manhattan building, that we were able to overcome.
What are your predictions for commercial real estate in 2020?
I am cautiously optimistic. Notwithstanding the obstacles being placed in the way of real estate owners by new legislation and proposed new legislation, I believe that the industry's innate resilience and adaptability will allow it not just to survive but to continue to thrive.
What was your greatest professional accomplishment in 2019?
Our continued recognition as the largest real estate-only practice in New York, as reported by The Real Deal's November 2019 list. To accommodate our robust growth and our anticipated continued growth, we leased an additional floor in our building.