Name: Buzz Riley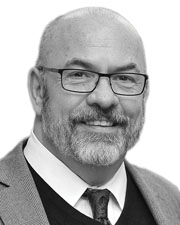 Company: IA Interior Architects
What was your most notable project, deal, or transaction in 2019?
IA New York completed almost two million s/f of new workspace for our clients this year. We are very proud of the positive impact made in lives and businesses through design and through collaborative engagement with our clients and professional partners.
What are your predictions for commercial real estate in 2020?
I believe that in 2020 we will continue to see growth and change in the NYC commercial real estate market. Most certainly the economy and national politics will continue to have an influence, good and not so good. NYC is very quickly evolving from Silicon Alley to Silicon Ave. and I believe we will continue to see growth from the tech industry.
What was your greatest professional accomplishment in 2019?
Having the opportunity to be a leader in the IA New York office with the most amazing assemblage of talent and creativity!