Name: Avi Akiva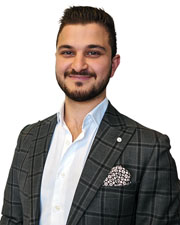 Company: Tri State Commercial Realty
What was your most notable project, deal, or transaction in 2019?
In the second quarter of 2019, we took on a 50,000 s/f project in Williamsburg, Brooklyn. Thus far, we have leased out two thirds of the space to a pharma tech company, and are also working with a government agency for the remaining one third of the building, which we are close to completing.
What are your predictions for commercial real estate in 2020?
The commercial real estate sector is ending the year and decade on a high note. From our own vantage point, given the strong momentum we have experienced this year, we are looking forward to starting off the New Year by generating additional growth and building our already robust network. We see our team continuing to expand our services and expect our reach to grow.
What was your greatest professional accomplishment in 2019?
I would say that Tri State's greatest accomplishment for 2019 is growing our team from five to 23. Additionally, each and every agent that we brought on, due to extensive team training - something unique to our firm - have all signed leases in 2019. And, there are more deals in the pipeline for 2020.