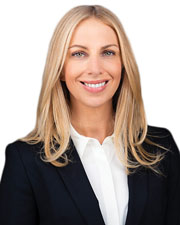 Name: Tara Mulrooney
Title: Partner
Company Name: Zetlin & De Chiara
Association/Organization Affiliations (REAL ESTATE ONLY): ULI Mentor Program
What is your favorite motivational quote?
"Your thoughts become your reality, so think positive and big."
How do you hold your own in a negotiation?
Being extremely well prepared is key to any successful negotiation.
What is the best advice you have received, and who was it from?
When I was young, my dad said I could do anything I put my mind to. When I considered cheerleading in middle school, he asked me why I wanted to be on the sidelines instead of out there playing the game. These two pieces of advice motivate me to get out there and take chances.
What was one of your biggest accomplishments in the last 12 months?
Returning to Zetlin & De Chiara as a partner has been the most professionally rewarding experience for me this year. It has been extremely fulfilling to be embraced by the partnership and to see the clients I have been cultivating continue our relationship at my new firm.