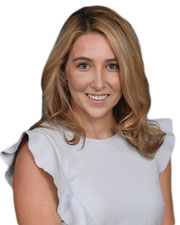 Name: Madison O'Connor
Title: Licensed Real Estate Broker
Company Name: Marcus & Millichap
What is your favorite motivational quote?
"Make no little plans; they have no magic to stir men's blood." ~ Daniel Burnham
What books, blogs, podcasts, resources or influencers would you recommend to women?
I love the "How I Built This" podcast, hearing from successful entrepreneurs about their struggles, process and successes is fascinating and inspiring. I also highly recommend the book "Grit" by Angela Duckworth. Essentially the message is that hard work, determination and perseverance can help you achieve great things.
What recent project or transaction are you most proud of?
Q4 of last year we completed the sale-leaseback of a two-million s/f distribution center at list price that was previously on the market by a competing firm.
What was one of your biggest accomplishments in the last 12 months?
Over the last 12 months, we have sold over six million s/f of industrial net leased real estate and completed some of the largest industrial transactions in our firm's history.