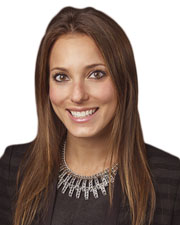 Name: Lauren Werther
Title: Director of Project Management
Company Name: Avison Young
What is the best advice you have received, and who was it from?
A female colleague at my first job out of college told me that being underestimated is one of the biggest competitive advantages you can have. After 11 years of working in a mostly male dominated industry, I laugh at how much that insight helped me succeed throughout my career.
What recent project or transaction are you most proud of?
In 2015, I was hired by a growing residential real estate startup to manage the buildout of their expanding headquarters in NYC. As they acquired funding, one project soon turned into a national expansion and I became the account manager overseeing the design and buildout of their offices across the country. Having never managed a national account, I had to develop my own project management system to provide the client with a seamless and successful experience. To date, we have opened close to 100 offices in almost every major market in the U.S. and counting.
What is your favorite motivational quote?
"You make your own luck" ~ Ernest Hemingway. I'm a firm believer that if you want something you have to go get it. The harder you work, the more opportunities you're presented with and the greater your chances are for success. Most people who get what they want do so by simply doing what many people are afraid to which is ask.
What was one of your biggest accomplishments in the last 12 months?
Establishing a better work/life balance by becoming a better manager. For years I had been under the false impression that if I needed something done right I needed to do it myself. Once I realized that wasn't a sustainable mantra, I learned to trust and delegate to those around me which not only helped reduce my to do list but also helped teach my team how to become better project managers. It was a win-win!