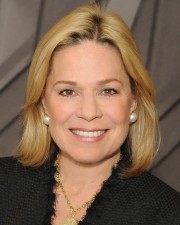 Name: Jane Lyons
Title: Managing Partner
Company Name: Rhodes Associates
Association/Organization Affiliations (REAL ESTATE ONLY): CREW, CREFC
What is your favorite motivational quote?
"Attitude is everything."
What books, blogs, podcasts, resources or influencers would you recommend to women?
TED Talks
How do you hold your own in a negotiation?
I listen and hear what is being said and try to understand the other person's perspective.
What recent project or transaction are you most proud of?
We recently managed an assignment to build out the acquisition, development and construction divisions of a $30 billion global asset management company across three regional offices in NYC, Boston and DC. Our approach was to first understand our client's business strategy and objectives, and then leverage our 40+ years of real estate search expertise to maximize their ROI in human capital. The assignment spanned 18 months and we filled 2 C-Suite and senior leadership positions.
What was one of your biggest accomplishments in the last 12 months?
Consulting and advising a specialty finance boutique firm on restructuring and managing their organization which resulted in several search assignments. They doubled their fee income from $20 million to $40 million over a two-year period.
What is the best advice you have received, and who was it from?
Faith can move mountains, but a kind word will move people.
Who inspired you to join the CRE Industry?
My partner at Rhodes Associates, Steven Littman