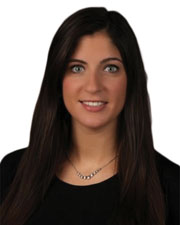 Name: Haleigh Novick-Eckhardt
Title: Vice President of People
Company Name: B6 Real Estate Advisors
What is your favorite motivational quote?
"Act the way you'd like to be and soon you'll be the way you act." ~ Leonard Cohen. I have spent my career thus far in predominately male dominated industries and as a woman I find this quote helps me navigate my way.
What is the best advice you have received, and who was it from?
I have received a lot of great advice, but most recently, I have had the pleasure to learn from and work with Paul Massey. I frequently hear him espousing the importance of following one's passion. He loves our business and feels lucky to do it. I would say the best advice he has given me is, if you aren't doing what you love, find something else that you're passionate about.
What was one of your biggest accomplishments in the last 12 months?
B6 Real Estate Advisors just celebrated our one-year anniversary on July 1st. In July of 2018 we were just 10 people and today we have approximately 65 employees. In the last year we have had great success in building our sales and debt businesses with a strong group of talented people. Given my focus on our people operations, I am most proud of this flourishing growth.