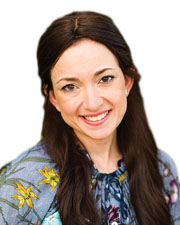 Name: Esti Broyde
Title: Commercial Real Estate Broker
Company Name: Roey Realty LLC
What is your favorite motivational quote?
"Work smarter not harder"
What books, blogs, podcasts, resources or influencers would you recommend to women?
I read Real Estate Weekly and The Commercial Observer. For a broader insight on markets etc., I read The Wall Street Journal.
How do you hold your own in a negotiation?
I make sure to be well versed in the various intricacies of the transaction.
What was one of your biggest accomplishments in the last 12 months?
I sold a rent regulated multifamily property in Brooklyn. The deal fell apart numerous times before it closed. As a broker you have to know how to resolve all issues even the ones that don't necessarily pertain to the broker.
Who inspired you to join the CRE Industry?
My mom is my greatest inspiration. She has been on the management side of commercial real estate for over 40 years. Her persistence, hard work and dedication continues to impress me.