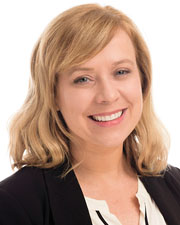 Name: Erin O'Brien
Title: Partner
Company Name: Certilman Balin
Association/Organization Affiliations (REAL ESTATE ONLY): Founding Member of Women in Tax Assessment (WItA), Associate Board Member of Assoc. for a Better Long Island
What is your favorite motivational quote?
"Hard work will put you where the good luck can find you."
Who inspired you to join the CRE Industry?
About 25 years ago, I started my first job with a commercial real estate brokerage firm- working for a brother/sister team in Phoenix, Arizona. It became quite evident that the sister, Cheryl, was one of the only women in the CRE industry. Not only did she introduce me to the world of commercial real estate, but she also opened my eyes to the lack of women within all aspects of the business. This inspired me to pursue law within the commercial real estate arena.
How do you hold your own in a negotiation?
Too often, negotiations get personal and even emotional. All parties are (usually) there with good intentions to resolve the issues, but I often find myself reminding my adversary that our mutual goal is progress for our respective clients.