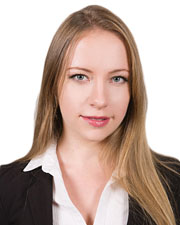 Name: Anastasia Vladislavova
Title: Senior Analyst
Company Name: Eyzenberg & Co.
Association/Organization Affiliations (REAL ESTATE ONLY): ULI, ICSC, MBA (YMBA)
What books, blogs, podcasts, resources or influencers would you recommend to women?
One of my favorite books for women is "Lean In" by Sheryl Sandberg showing how to lead and challenge the common perception in the workplace that men should be the ones who rule the world.
Who inspired you to join the CRE Industry?
My family. I have been exposed to the industry from my childhood. It was very interesting and exciting to hear my father negotiating deals while sitting in the next room. I was amazed how he was able to reach his goals in lease negotiations and deals structuring, so I've always dreamt to negotiate like my father when I grow up and become a real estate professional or start my own business.
How do you hold your own in a negotiation?
I believe the main idea is to keep in mind your ultimate goal and figure out what you have to achieve and what you can give up. If you give up on something meaningful in the beginning, then your opponent feels obliged to return the favor.