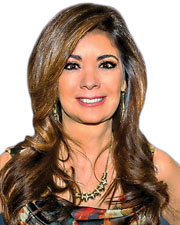 Name: Adelaide Polsinelli
Title: Vice Chair
Company Name: Compass
What is your favorite motivational quote?
"What your mind can conceive, you can achieve."
How do you hold your own in a negotiation?
I hold my own by being knowledgeable and firm. I take the head of the table and confidently state the facts.
What recent project or transaction are you most proud of?
I'm most proud of successfully selling a package of retail condo's in Nolita, along with my son, Trystan Polsinelli, for a record price while the retail industry is going through challenging times.
What was one of your biggest accomplishments in the last 12 months?
My biggest accomplishment this year was to join Compass as vice chair in launching the Investment Sales Division, along with industry veteran, Ronda Rogovin. We have since hired several high powered women and can proudly state that we are the only commercial firm with the highest percentage of experienced, senior level women brokers.

Thanks for Reading!
You've read 1 of your 3 guest articles
Register and get instant unlimited access to all of our articles online.

Sign up is quick, easy, & FREE.
Subscription Options
Tags: