?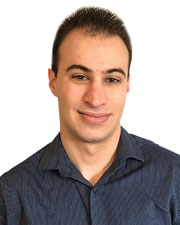 Name: Robert Manetta
Title: Project Manager
Company Name: Mojo Stumer Associates
Year that you entered your current field? 2012
What do you consider to be your greatest professional accomplishment in the past 12 months?
It's very rewarding seeing my projects develop from a conceptual design to a real life structure. I have also had the opportunity to travel and work on out of state projects, which is a great way to expand my network.
Who or what do you attribute to your success?
I credit the support of my friends and family to my success. They encouraged me to persevere and follow my dreams through architecture school and continue to give me advice as I progress in my career.
If you have a mentor, who is it and how have they influenced your personal & professional growth?
One of my first influences was my high school architect teacher. He made me realize this is the career path I wanted to take. Other mentors in my life have been my employers who have taken the time to help me grow and learn by sharing their knowledge and experiences.
What was your favorite thing to do as a kid?
My growing passion for architecture began as a child. I enjoyed playing with Legos. I wouldn't follow the instruction manuals when building Legos; instead I would visualize my own designs and make my own unique buildings. I also enjoyed drawing different houses I saw while on family vacations.