Name: Matthew McElroy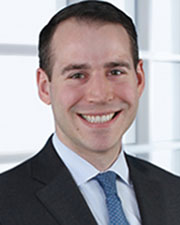 Title: Member, Real Estate and Development Group
Company Name: Robinson+Cole
Address: Chrysler East Building, 666 Third Avenue, 20th Floor, New York, NY 10017
What do you consider to be your greatest success in the past 12 months?
Since joining Robinson+Cole in March, my focus has been on financing affordable housing development, which has been very rewarding and uniquely challenging. There is a tremendous need for affordable housing, and navigating clients through the legal framework to execute transactions that support this need is the most meaningful part of my job. Prior to joining Robinson+Cole, my work focused on construction lending and syndication. I had the opportunity to work on some of the most significant construction projects in New York City, which was thrilling for me personally and professionally.
Who or what do you attribute to your success?
My wife's love and support.
What was your favorite thing to do when you were a kid?
Playing pickup basketball was my favorite activity as a kid. I still play weekly at the local YMCA, but I can't jump as high as I used to.
?What advice can you offer to someone who is just getting started in your industry?
I tell recent law grads to be patient and self-study. Drafting and negotiating real estate documents does not come naturally, so spending the extra time outside of work to understand the concepts underpinning the transactions is important. As a junior associate, I volunteered as a teacher's assistant at Columbia Law School in part to better understand the asset class, which was hugely beneficial.