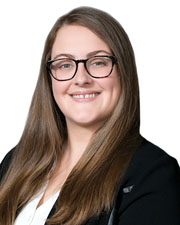 Name: Erin Kiernan
Title: Senior Manager, Real Estate
Company Name: Marks Paneth LLP
Year that you entered your current field? 2006
Who or what do you attribute to your success?
I attribute my success to my parents, who taught my three siblings and I the importance of a strong work ethic. In addition to being hardworking, both of my parents are also very creative– another trait I am fortunate that they passed down to me. In a structured field like accounting, my creativity enables me to problem-solve in innovative ways and drives exciting collaboration between me and my colleagues.
What advice can you offer to someone who is interested in a career in your industry?
I would advise anyone interested in a career in public accounting to pursue it and, in doing so, to get exposure to as many different elements of the work as they can in the early stages of their career. I was fortunate to have worked with clients in the real estate industry very early on, allowing me to discover just how dynamic and exciting the industry is. With so many service lines and industries in public accounting, you can almost always find a practice area, specialty or industry that you like and are passionate about.
What do you consider to be your greatest professional accomplishment in the past 12 months?
In 2018, I expanded my client base to include a multi-national Asian corporation doing business in the NYC real estate market. This engagement includes multiple entities, a financial statement consolidation and several major development projects in Manhattan. The complexity and scale of the assignment have created additional opportunities for me to advise the client far that goes beyond the accountant role.
If you have a mentor, who is it and how have they influenced your personal & professional growth?
A former boss at a job I had in high school had a tremendous impact on me. After his father's sudden passing, he took over the family business while still in college and ran with it – carrying on his parents' legacy while expanding the business for future generations. He loved his work and treated his employees like family. His constant encouragement to step out of my comfort zone led me to take on more responsibility, including managing others in the office as early as my junior year of high school. The lessons I learned from that experience have stayed with me throughout my career.