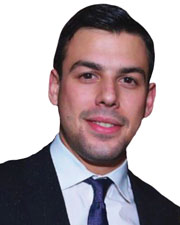 Name: Daniel Kowalsky
Title: Director of Financial Services
Company Name: HKS Capital Partners
Year that you entered your current field? 2016
Who or what do you attribute to your success?
Work ethic. Not one successful entrepreneur has ever advanced their business without hard work and dedication to honing their craft. This goes hand in hand with remaining humble, removing ego, and having a "student of the game" attitude at all times.
How have your life experiences impacted who you are professionally?
Nothing has ever come easy for me in my entire professional career, and I have had to earn every inch. I feel that it is necessary to prove your worth every day and always stay hungry. Complacency kills.
What advice can you offer to someone who is interested in a career in your industry?
Learn as much as possible. We are so fortunate to be involved in such a vast business where it is impossible to know it all, so keep reaching to build your knowledge and overall skillset.
Who are some leaders that you admire and why?
?I always admire those that carry themselves with integrity and class, and I certainly do not have to look much further for that than our own company. Leadership at the top of HKS consistently brings those two attributes to their business day in and day out, and I look to emulate that in my own role.