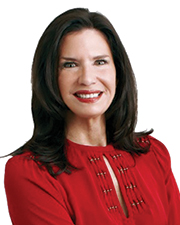 Name: Stacey Cohen
Title: CEO and founder
Company Name: Co-Communications, Inc.
Years in real estate: 20+
What real estate associations or organizations are you a member of? CREW New York, Business Council of Westchester, Hudson Gateway Association of Realtors, PRSA
How have you navigated obstacles to achieve success in your career? I've relied on a strong "can do" attitude and being resourceful through digging deep within and asking for outside help when needed. I consistently "stretch" and challenge my staff and reinforce the importance of eliminating "I can't" from their vocabulary to be problem solvers, not problem spotters. When the need arises, I reach out to my "personal board" of directors, a group of role models and mentors with competencies in different areas. In addition, taking responsibility and manufacturing opportunities is necessary to achieve success.
How do you play your strengths to your advantage in your career? I believe that everybody should play to their talents. I grew up in an entrepreneurial family and have always been comfortable taking risks (in fact, I started my first business at age 14). While I enjoyed my time in corporate America working for major media companies, there is no doubt that starting a marketing communications business was in my DNA. Many of our clients are in real estate, an industry which I'm extremely versed in, having both family members in residential/commercial real estate and obtaining a real estate license years back. I'm a people-person and am extremely passionate about our work and clients. I've proudly mastered the art and science of packaging, communicating, and distributing messages to grow our clients' mind and market share.
What trends are you seeing so far this year? There is a growing demand for integrated marketing communications programs and a broader mix of channels to reach one's target audience. It has never been more important to treat marketing budgets similar to a financial portfolio–with a diversification strategy and long-term focus. A recent Microsoft consumer study claims that the human attention span today is 8 seconds, down from 12 seconds in 2000, making it critical to add value not clutter. I've also witnessed more real estate professionals investing in their personal brand to build their client base.
What do you do for fun? Spend time with family, travel, film, paint, Soul Cycle