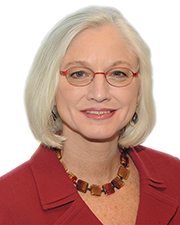 Name: Pat Hildebrandt
Title: Director
Company Name: JFK&M Consulting Group LLC
Years in real estate: 25
What real estate associations or organizations are you a member of? AIA, CREW New York, CoreNet, New York Building Congress (NYBC), Professional Women in Construction (PWC), Society of College and University Planners (SCUP), Society of Marketing Professionals (SMPS)
How have you navigated obstacles to achieve success in your career? There are always obstacles to tackle regardless of which road you take in life. I have found that patience and persistence have served me well throughout the years. There are so many different industry organizations and firms to become involved with to achieve success for yourself and your firm.
How do you play your strengths to your advantage in your career? In my business development and marketing roles, I am always on the move from events to meetings and always under deadlines. My organizational skills and my ability to interact with all levels of professionals in the industry have helped me take advantage of opportunities. Just truly listening and being responsive to your clients and colleagues paves the way to a successful endeavor.
What trends are you seeing so far this year? The level of activity in the industry is amazing and the types of opportunities that are out there are so varied. Staying focused and pursuing the right opportunities for your firm is very important. There has been a great deal of new development but the repositioning of older buildings is growing and will continue to maintain their competitive position in the market.
What do you do for fun? We enjoy our beach cottage on weekends sharing fine home cooked meals and good books with friends. We also try to travel to a different country each year for a new adventure and outlook on life.