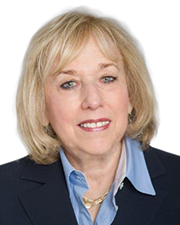 Name: Harriet Polinsky, Esq.
Title: Senior Partner
Company Name: Borah, Goldstein, Altschuler, Nahins & Goidel, P.C.
Years in real estate: 37
How have you navigated obstacles to achieve success in your career? I started my career at a time when there weren't many women in the industry. I had won many favorable decisions on notable and challenging cases, but felt I didn't receive the significant recognition for my achievements a man would have. Nevertheless, I persevered and have always placed a great emphasis on building relationships with clients and colleagues. I consider my personal achievements to be victories for my clients and they know and understand that. My relationships with colleagues is equally as important and I have received many recommendations from my adversaries' attorneys. As senior partner and board member, I have worked hard at maintaining cooperative and collegial relationships with all.
How do you play your strengths to your advantage in your career? I am very dedicated to advance preparation and very good at strategizing a situation and a case. I use that both to win cases and use it to my clients' advantage.
What trends are you seeing so far this year? There is continuing pressure on law firms to obtain results while controlling fees. My clients trust that I operate with this in mind.
What do you do for fun? I am passionate about traveling and spending time with my family. My husband and I have traveled to many parts of the world, sometimes with the children and grandchildren which is a delight! I am also a movie aficionado, both old and new. I love to read spy novels.