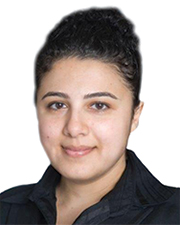 Name: Anna Guiliano
Title: Partner
Company Name: Borah, Goldstein, Altschuler, Nahins & Goidel, P.C.
Years in real estate: 12
How have you navigated obstacles to achieve success in your career? I began my career at a very small general practice law firm. I did not have any mentors, nor did I have any guidance from senior level attorneys. I had to learn different areas of law as cases were given to me. I was fortunate to begin working at Borah, Goldstein, Altschuler, Nahins & Goidel, P.C. in 2008. At Borah, I have been able to build my skills as an attorney, which include oral advocacy, writing and problem solving. I have also been able to build a practice in the area of cooperative and condominium law. Most notably, I have expanded the firm's condominium lien foreclosure practice. As a result, Borah now has a foreclosure department.
How do you play your strengths to your advantage in your career? I am tenacious, ambitious and meticulous. I take pride in my work. As a result, I give my clients my all. I put all of my energy into a task until I am satisfied that I did not leave one stone unturned. In addition, I am a team player. The attorneys at my law firm are my legal family. I believe clients are better served when attorneys work together in a firm rather than in competition. I also love mentoring new attorneys. I enjoy working with new attorneys in developing their writing skills and logical reasoning. It is important to allow new attorneys to grow on their own, but provide them with enough guidance to improve their skills.
What trends are you seeing so far this year? One of the trends that Borah is responsible for establishing is courts are now granting license fees to owners that are required to give neighboring owners licenses for construction purposes in 881 proceedings. Although the determination of whether to award a license fee is discretionary, the courts are now granting licenses along with the award of contemporaneous license fees.
What do you do for fun? I love going to concerts and listening to music.