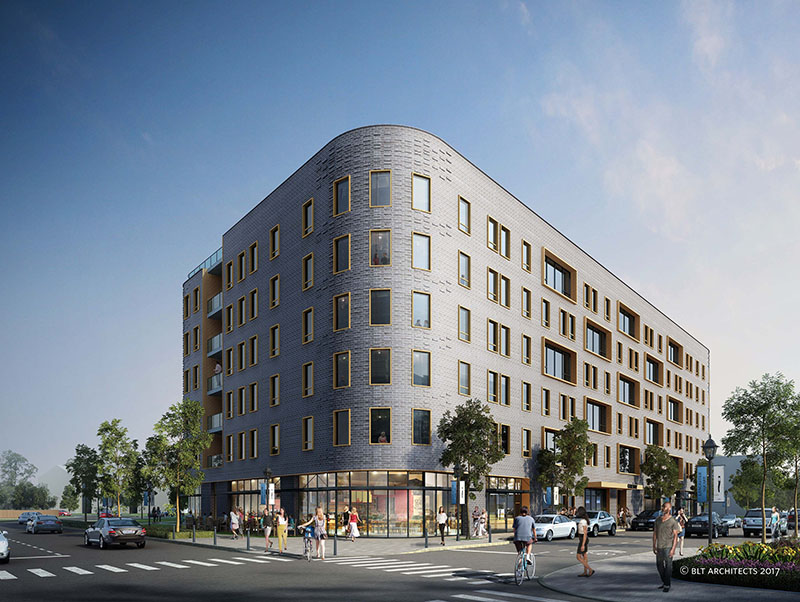 Buffalo, NY Development partners TM Montante Development and Morgan Communities have submitted a site plan application to the city's planning board for the next building at Lancaster Sq. at Gates Circle. The development team is transforming the former Millard Fillmore Gates Circle Hospital site into an urban place with new residential units, office space, and neighborhood retail.
The site plan application is for a six story mixed-use building at the northeast corner of Delaware Ave. and Lancaster Ave. that will include retail on the ground floor and approximately 60 residential units on the upper floors. It comes after community outreach effort that included meetings with the Gates Circle Community Advisory Committee (CAC), area block clubs, and other local community groups and organizations.
"Ever since we started the redevelopment of the former Millard Fillmore Gates Circle Hospital site, we have been very mindful of the importance of a thoughtful development process that integrates the values of the community," said Christian Campos, president of TM Montante Development. "The design of this building is anchored in those community values."
Beginning in the summer of 2016, the development team worked with the CAC as well as Robert Shibley and Bradshaw Hovey of the University at Buffalo's Regional Institute to create a design review process for the building. This included both a competitive RFP for architecture teams as well as the input of a professional Design Review Committee.
Importantly, the RFP also included a "Design Values Statement" that was developed collaboratively with the CAC and highlighted specific design considerations that respondents were required to address in their proposals. In December 2016 the development team selected BLTa, a Philadelphia based firm that has successfully designed mixed-use projects throughout the eastern United States, as architect.
According to Campos, BLTa understood and addressed the design values included in the RFP in their building proposal. "We are working with a firm that recognizes the importance of Buffalo's architectural heritage. Their approach has been respectful of that history, and will also build upon it by designing a building that is an expression of this time and this place."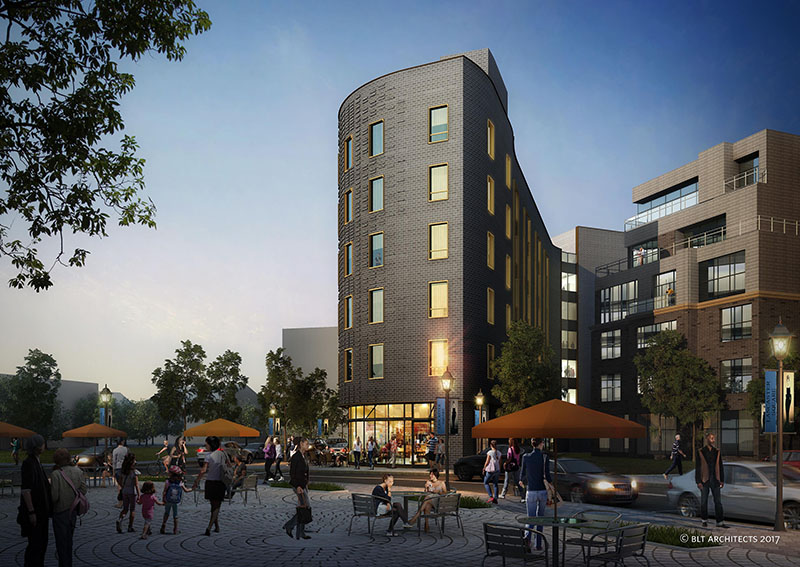 After the selection of BLTa, the development team re-engaged the community to elicit feedback on the new project. "The response from the community has been very positive. We're hopeful that the Planning Board will determine that our site plan application reflects the significant amount of community collaboration and support," said Campos.
Kevin Morgan, vice president of Morgan Communities, stated that the involvement of the community has been essential to the project's development. "In the brief time we've been in Buffalo meeting with members of the community, we have been extremely impressed with the passion and affection they have for the Gates Circle site. We are very excited to be partners with TM Montante Development as we take the next significant step in this transformational project for the City of Buffalo."