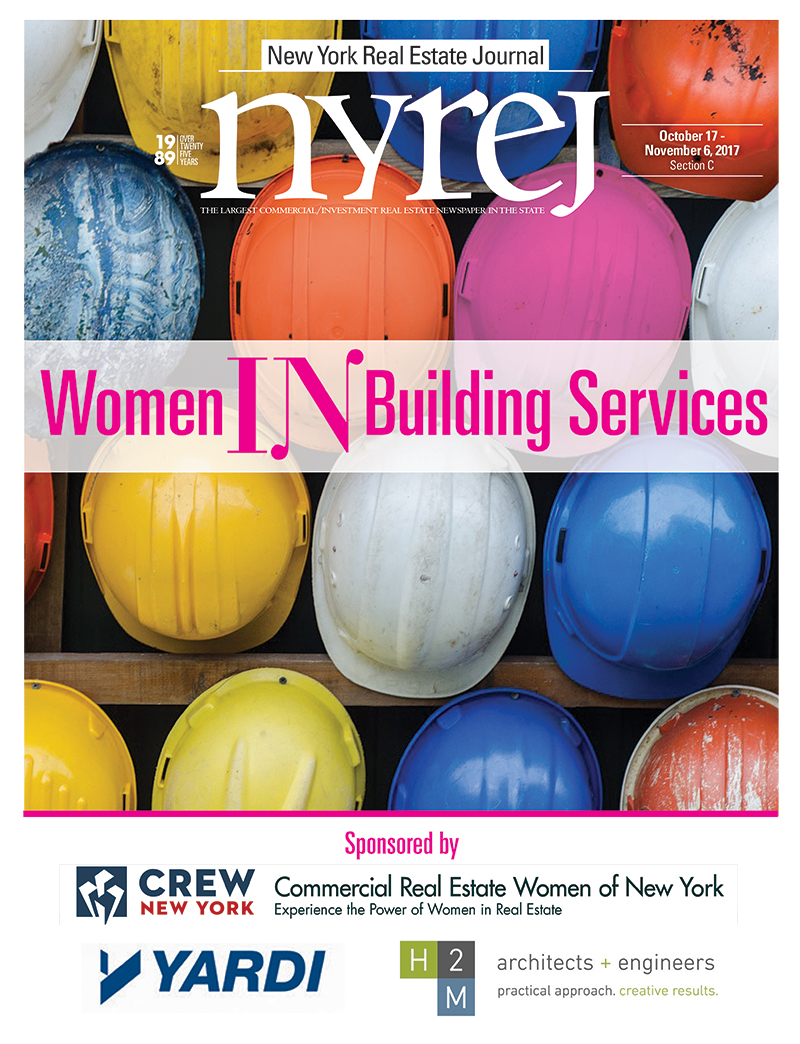 Norwell, MA The New York Real Estate Journal recently honored women specializing in areas of building services. The October 17th Spotlight edition shares insight into today's building services industry from a woman's point of view. Sponsors for this edition include CREW New York, Yardi and H2M architects + engineers.
The women featured include: (CLICK on name to view full responses)
Nadine Cino,
CEO, TygaBox Systems, Inc. and TygaTechnologies Inc.
Alexis Newman,
Senior Marketing Specialist, Simpson Gumpertz & Heger
Kristine Schmidt,
President, Environmental Geese Control, Inc.
Patricia Simone,
President at Simone Management Group, Simone Development Companies
Connie Racanelli,
President and CEO, Con Rac Construction Group, LLC
Kate Goodman,
Co-President, ATCO
Caren Maio,
CEO and Co-Founder, Nestio
Jaclyn Peranteau,
Principal, Prime Engineering, PC
Barbara Kavovit,
CEO, Evergreen Construction
Nancy Colella,
Principal, NYS Sustainable Corp.
Nancy Erardi,
CEO and President, NYCAN Builders LLC
Laura Reddy,
CEO, NuZine
Megan Guy,
Director of Development, Simone Development Companies
Jennifer Anna Pazdon,
New York City Office Leader, Cast Connex
Sara Rubenstein,
General Counsel and Senior Vice President, Continental Ventures
Julia Lindh,
Executive Managing Director, MKDA
Amy Rose,
Co-President, Rose Associates, Inc.
Sarah Nolan Hoff,
Owner / Principal Consultant, Hoffhaus Creative
Bonnie Hagen,
Chief Operating Officer, Bright Energy Services
Lisa Mulligan,
Brookhaven Director of Economic Development & CEO of Brookhaven IDA & LDC, Town of Brookhaven, Town of Brookhaven IDA & LDC
Nina Peek,
Vice President, AKRF
Colleen Griffiths,
Senior Technical Director, AKRF
Michele Boddewyn,
President, Boddewyn Gaynor Architects, d.p.c.
Jennifer Carey,
CEO, JLC Environmental Consultants
Michele O'Connor,
Principal, Langan
Kenne Shepherd,
Principal, Kenne Shepherd Interior Design Architecture PLLC
Julie Raisch,
Director of Expansion, CompStak
Kevin Renée Gilbert,
CEO, Gilbert International
Francesca Bucci,
President, BG Studio International
Diana Revkin,
Studio Director, TPG Architecture
Lauren Monaghan,
Project Manager, Bohler Engineering
Jane Smith,
Founding Partner, Spacesmith LLP
Diana Soldano,
Director of Marketing, Hayduk Engineering, LLC
Cat Trenner,
Vice President Business Development, BMDC Construction
Jessica Vail,
Director, Marketing & Business Development, The Falcon Group
Katie Perloski,
Design/Technical at Trace Pool Design, A division of Lothrop Associates
Michele Rogers,
Project Engineer, Langan
Ksenia Tretiakova,
Senior Design Engineer, Leslie E. Robertson Associates
Christine Belson,
Chief Operating Officer, KM Associates of New York, Inc.
Deborah Rashti,
VP of Marketing & Sales, EMS Restoration
Angela Rella,
Accounting Director, ACC Real Estate Services, Inc.
Kristen Gizzi,
Director of Real Estate, ECCO Development LLC
Cathy Hoffman,
Director of Sales Success, Atlantic Westchester, Inc.
Wendi Shafran,
Senior Project Architect, FXFOWLE
Lisa Bauerle,
Creative Director, MKDA
Erin Anthony,
Senior Electrical Engineer, AKF Group
­Sara Ngan,
Project Architect, Associate, FXFOWLE
Shari Leventhal,
Senior Project Manager, Langan
Stacie Alexiou,
CEO, Managing Director, WATT + FLUX, an LED Inspire Company
Danielle Semp,
Interior Designer, Lothrop Associates LLP­
Ellen Talley-Lotzky,
Strategic Account Manager, Symmons
Linda Scainetti,
Owner, Designworks LPS, LLC
Zoe Hutzler,
Chief Marketing Officer, Outsource Consultants
Pansy Cheng,
Senior Architect, H2M architects & engineers