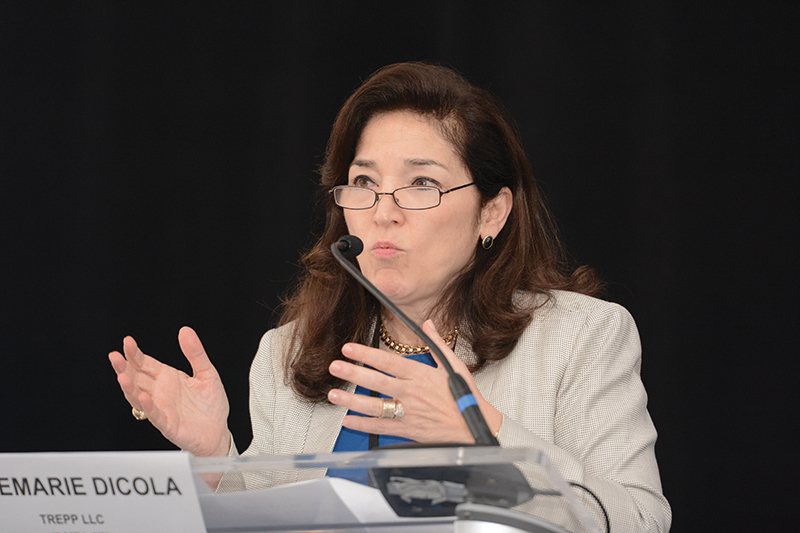 Manhattan, NY The Mortgage Bankers Association of New York (MBA of NY) hosted its 3rd Annual Strategic Real Estate & Lending Summit June 15th at the Stewart Hotel in Midtown. Over 175 professionals including appraisers, brokers, lenders, legal firms and other stakeholders got insight into the residential and commercial real estate markets, regulatory and compliance challenges, and emerging trends that are influencing the industry.
Topics included "Marketing in the Millennium Mindset," "Mid-Year Market Update," "Cyber Security," "Best Practices in Construction Lending," "Regulatory Roundup," and "The Art of Risk Management," among others. The full-day educational conference offered 7 hours of continuing education credits to appraisers and Realtors.
"Once again, the MBAofNY assembled an impressive lineup of topics and speakers." said MBA of NY Conference chairman Fred McDonald, VP at Popular Community Bank. "Part of the association's mission is to deliver quality education to our members, and this year's conference agenda was first rate."
In addition to educational sessions, attendees were treated to lunch keynote speeches from ESPN's Adam Schefter (NFL Insider) and legendary New York Islander and four-time Stanley Cup Champion Clark Gillies.
The conference opened with Genworth's national spokesman Steve Richman delivering an entertaining and informative look at the millennial generation, and things companies should consider when marketing, selling, recruiting, or employing millennials.
In the conference's Mid-Year Market Update, Annemarie DiCola, CEO of Trepp, noted that the CMBS market is showing promise, especially considering the new risk retention requirements. "CMBS got off to a slow start, but is now at virtually the same levels as it was at this time last year. This is very impressive for the first year under risk retention. No one predicted that," she said. With an audience composed of real estate professionals from the greater New York City area, DiCola noted that the city still remains in an envious position. "Technology, talent and tourists. This is why Manhattan attracts investment capital. New York continues to be the best story in the U.S.," said DiCola.
In the second part of the Mid-Year Market Update, EDR's Dianne Crocker moderated a panel of lead economists. Heidi Learner, Savills Studley's chief economist, note that lending has experienced steady growth, but there are signs it is leveling off. "The market is coming off high levels of growth so although volumes are up and healthy, the pace is moderating," said Learner. Other economists on the panel included Ryan Severino of JLL, and Rebecca Rockey, head of America Forecasting for Cushman & Wakefield.
Another timely topic at the conference was a session on Cyber Security. Bonnie Nachamie, Esq., moderated a panel that included T&M Protection Resources' Damien Schwartz and Simon Ragona. The panel looked at the current status and threat levels for cyber-attacks, current methods hackers are using, and how institutions can protect their information.
Attendees also got insight into the current state of construction lending and project management in the session "Cranes in the Air; Boots on the Ground - Best Practices in Construction Lending." Co-moderated by Doug Giles of AmTrust Title Insurance and John Busi, president, valuation & advisory, Newmark Grubb Knight Frank, the panel addressed current challenges and opportunities.
"Despite regulatory challenges, the rising cost of construction materials, and competition for resources, both lenders and developers assembled for our panel spoke positively about the ability to fund and initiate development into the foreseeable future. While all conceded that it's become harder to wear a lender or builders "hard hat" in the current environment, these players are showing a remarkable resiliency and intuitive foresight for every hurdle they are facing," said Busi.
Ridgewood Savings Bank's Art Saitta moderated the session "The Art of Risk Management" where Richard Spell of Raymond James, Jared Greager of AnnieMac, and Dilfia Munoz of SONYMA shared their expertise on capital market trends, specialized mortgage products, fraud detection, buy-backs, and how lenders can conduct business in a more profitable manner.
"Those attending the risk management session gained some valuable insight that they were able to bring back to their institutions. They learned of choices in residential lending and that there are conduits that fits every means of doing business," said Saitta.
In the session "Out of the Shadows - Non-Traditional Lenders and Shadow Banking in the Mainstream," moderator Adam Petriella of Silverthread Capital, LLC commented, "Alternative lending has 'come into its own' and out of the shadows as evidenced by the professionalism of the representatives on the panel and the structure and success of their platforms."
There were several other informative sessions at the conference that addressed both commercial and residential real estate topics.
The full agenda for the conference included the following topics and speakers:
"Generational Marketing in the Millennial Mindset" with Steve Richman, national spokesperson Genworth Mortgage Insurance.
"Mid-Year Market Update" with Annemarie DiCola, CEO, director, Trepp Executive Board.
"Market View from The Economists" with Dianne Crocker (moderator), principal analyst, EDR Insight; Ryan Severino, chief US economist, JLL; Heidi Learner, chief economist, Savills Studley; Rebecca Rockey, head of America forecasting, Cushman & Wakefield, LLP.
"Cyber Security - Protecting Your Assets" with Bonnie Nachamie, Esq. (moderator) principal Bonnie Nachamie, PC; Damian Schwartz, director, T&M Protection Resources; and Simon Ragona, director, Cyber Incident Response & Data Forensics, T&M Protection Resources.
Lunch Keynote Speakers: Adam Schefter, ESPN (NFL Insider) and Clark Gillies, Former NY Islander, Four-Time Stanley Cup Champion.
"The Art of Risk Management" with Art Saitta (moderator), AVP residential business development officer, Ridgewood Savings Bank; Richard Spell, managing director, fixed income banking, Raymond James; Dilfia Munoz, AVP business development Officer, SONYMA; and Jared Greager correspondent team lead AnnieMac Home Mortgage.
"Cranes in the Air; Boots on the Ground - Best Practices in Construction Lending" with John Busi, MAI FRICS, (co-moderator) president, valuation & advisory. Newmark Grubb Knight Frank; Douglas Giles, (co-moderator) vice president, AmTrust Title Insurance; Kenneth DiGregorio, senior vice president, Popular Bank; Steven Dubb, principal, The Beechwood Organization; Paulo Garcia, SVP, NY regional manager, Mercantil Bank; Thomas Tener, MAI, managing member, KTR Real Estate Advisors; and Steven Spinweber, executive vice president The Sudler Company New Jersey.
"Out of the Shadows - Non-Traditional Lenders and Shadow Banking in the Mainstream" with Adam Petriella, (moderator) managing principal, Silverthread Capital Partners; Adam Luysterborghs, managing partner, Avant Capital Partners; Jeff Seidler, managing director, Emerald Creek Capital;
Michael Schneider, COO, Aristone Capital; Michael Mostoff, senior managing director, Castellon Capital; and Harry Almquist, founder & managing partner, Valyrian Capital.
"Regulator Roundup" with Zahra Jafri, (moderator) president, Lynx Mortgage Bank, LLC and Rholda Ricketts, deputy superintendent of banks, mortgage banking division, New York State Banking Department.
Since 1948, the Mortgage Bankers Association of New York continues to offer its members endless opportunities for networking and education. A broad spectrum of firms and individuals choose membership in the MBAofNY, including mortgage bankers and brokers, commercial and investment banks and other institutional lenders, title companies, attorneys, accountants, appraisers, environmental and construction advisory firms. The MBAofNY continues to be a great place for lenders, their clients and consultants to the industry to meet and share their collective knowledge of the business and get deals done.