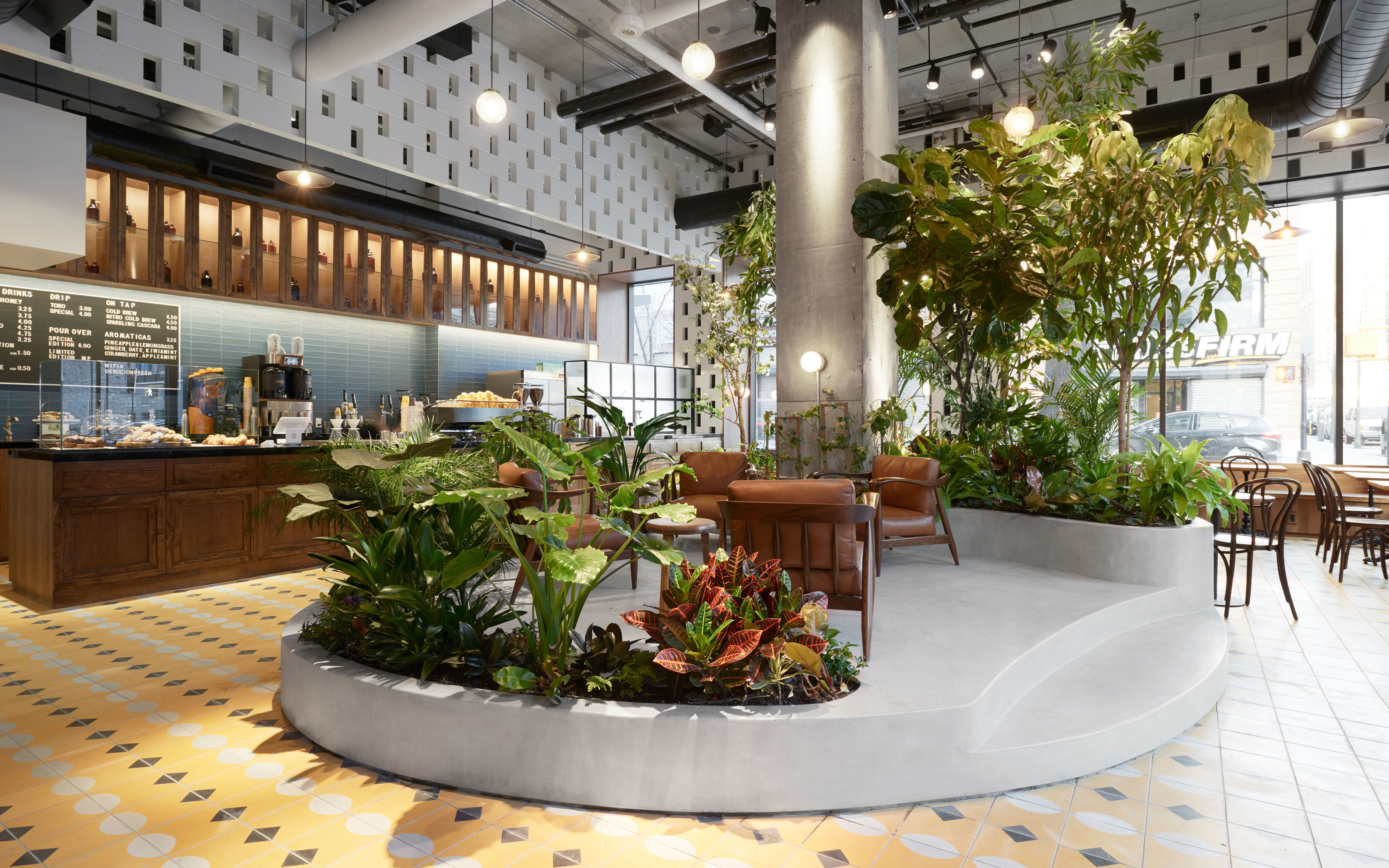 Brooklyn, NY Colombian coffee roaster Devocion, with a flagship showroom café in Williamsburg, has expanded its presence with a new 40-seat, 1,700 s/f café in TF Cornerstone's new 700-unit high-rise at 33 Bond. Devocion continues to set itself apart from the growing coffee competition by flying their single source beans from Bogota to the Williamsburg roasting facility weekly enabling the company's coffee to go from "origin-to-roaster-to-cup" in as little as 10 days.
The new café, designed by NY-based LOT office for architecture and constructed by ArtKt Construction Corp., features 18 ft. floor to ceiling windows, which fill the space with the natural light needed for the indoor tropical garden created by New York-based plantwalldesign. The garden features 35 different plant species including mango and ficus trees, as well as fish tail palm and star fruit trees. Under the glade of the larger trees is a mix of smaller plants with bright foliage. There are African violets in six different colors, as well as yellow and red croton, watermelon peperomia, bright red anthurium, birds nest ferns, and the classic bird of paradise plant.
Inspired by Colombia's tropical rainforest, the garden's aesthetic is complemented by typical Colombian handmade cement tile flooring and white brick lined walls; both a reflection of a traditional Colombian finca (farm).
A 26 ft. wood bar stretches across the back wall displaying the café's high tech toys, which include a new "Ground Control" drip machine that uses a vacuum to control the extraction, resulting in the perfect cup of coffee. Liemco has created a custom Slayer espresso machine for Devocion that has multiple pumps to control pre-infusion creating consistency with each espresso - every time, while the Espresso Grinders from Ceado E37k have the slowest RPM on the market, which prevents overheating the coffee to assure the ideal grind every time.
The menu features Honey or Toro Espresso (Macchiato, Cortado, Cappuccino, Latte or Americano); V60 Pour Overs, Toro and special edition Drip coffees; draft and nitro Cold Brew, as well as Sparkling Cascara on tap (made from the actual coffee fruit); and Aromaticas (fresh fruit and herbs tea infusions). In addition to the coffees and Aromáticas, Devocion will sell a variety of Brooklyn-made pastries and savory treats.
Founder and CEO Steven Sutton its excited about the new location saying, "Our second New York store is, to some degree, more important than our first, so I am excited to have found such a great location. It is, like our original one, a location where we play a role in the evolution of the area as an accelerator of growth." He continues, "In this case, we are thrilled to have found a landlord in TF Cornerstone that understands the needs of their tenants and look forward to servicing all of the residents at 33 Bond, as well as customers from all around the area."
Starting the third-wave coffee movement in Colombia in 2006, Devocion brought its farm to table coffee to the U.S. in 2013 with the opening of a cafe and roaster in Williamsburg, Brooklyn, which has since been named among "The Best Coffee Shops" in NY by the likes of Eater, The Village Voice, Zagat and others. Devocion has also been named one of the "Best Coffee Roasters in America" by both Men's Journal and Thrillist. With a network of more than 400 microlot farms throughout Colombia to which Devocion pays above fair trade prices, the brand is able to source the very best coffee year-round and reinvest in the communities from which they purchase. After sourcing the direct-trade beans, Devocion ships its beans to the company's roasting facility in Brooklyn weekly via an exclusive partnership with FedEx ensuring that the coffee being roasted is fresh, averaging 10 days from origin raising the traceability and transparency bars for third wave coffee roasters.