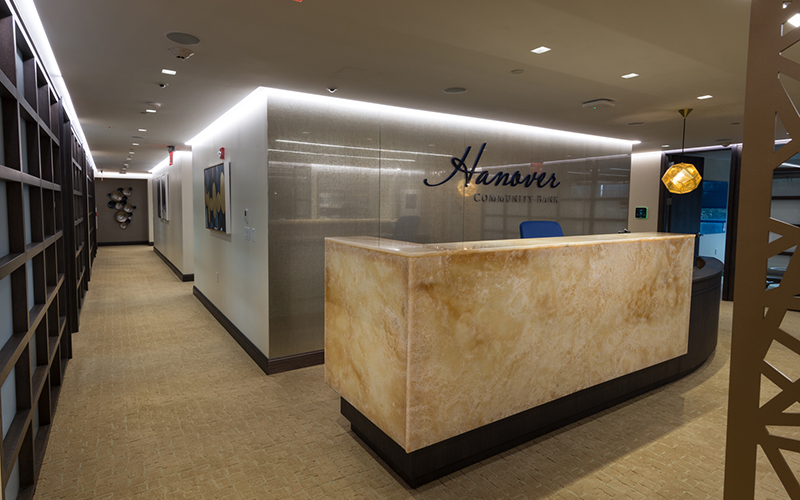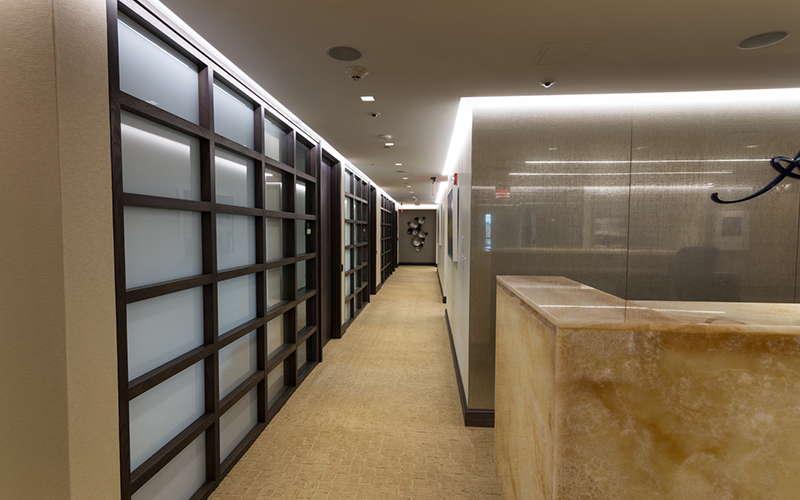 Mineola, NY If you think a regional bank can't attract millennials and other tech-savvy people to its workforce, think again. Hanover Community Bank's workforce has grown by 75% percent in the year since it reinvented its headquarters with a new workplace concept.
The bank's headquarters design embodies president and CEO Michael Puorro's vision of the company as "a different kind of bank." That difference is obvious in JRS Architect, P.C.'s top-to-bottom design. It integrates technology throughout the workspace to promote collaboration both within and beyond the building's walls. The re-do includes amenities – such as a fitness center, multiple common areas, and multi-purpose video equipment throughout the workplace – typical of a forward-thinking corporate headquarters. The open-plan design and inviting, airy feel represent a cultural shift in an industry known for its traditional, somber workspaces.
"Our people love technology, so we wanted our space to look and feel not like a bank but like a technology company," said Puorro. "That's a strong selling point when we're hiring. It's important to millennials, but we also interview branch managers here because we want them to see what kind of environment we have and what kind of company they'll be joining. We want to be perceived as an up-and-coming bank."
Since most people spend more waking hours in the workplace than anywhere else, including their homes, JRS and Hanover Community Bank were convinced that an inviting workplace could provide a competitive edge in the war for talent. The redesign is justifying that belief. "We have an upbeat atmosphere," Puorro said. "People enjoy coming to work, and they get along well with one another."
Under Puorro's leadership, Hanover Community Bank had in five years grown nearly ten-fold to a half-billion-dollar institution. Seeing his company outgrow its old offices, Puorro told John Sorrenti, JRS' president, that the bank wanted a crisp, contemporary headquarters design to reflect the bank's vitality and its emphasis on cross-functional – and sometimes multi-location – work teams. When the bank was looking to acquire its current 25-year-old Jericho Turnpike headquarters, the building seemed to impose physical limitations on how much the bank could expand its workspace and promote its philosophy. Yet JRS' design transformed the former staid medical facility into a 14,000 s/f synergistic hub, complete with a high-tech bank branch, lobby and executive offices bathed in natural light, and work stations that promote communication and collaboration.
The interior design features a variety of work-station configurations and huddle areas to accommodate the building's 45 employees and multiple work functions. JRS placed the bank at the vanguard of contemporary open-plan office design trends by implementing a benching concept for administrative employees and by allowing more natural light into interior spaces. Four rows of desks promote communication, while adjustable partitions allow for "heads-down" concentration when it's needed. Wood-framed glass walls enable natural light to hit almost every corner of the building – even corridors and private offices on the executive floor.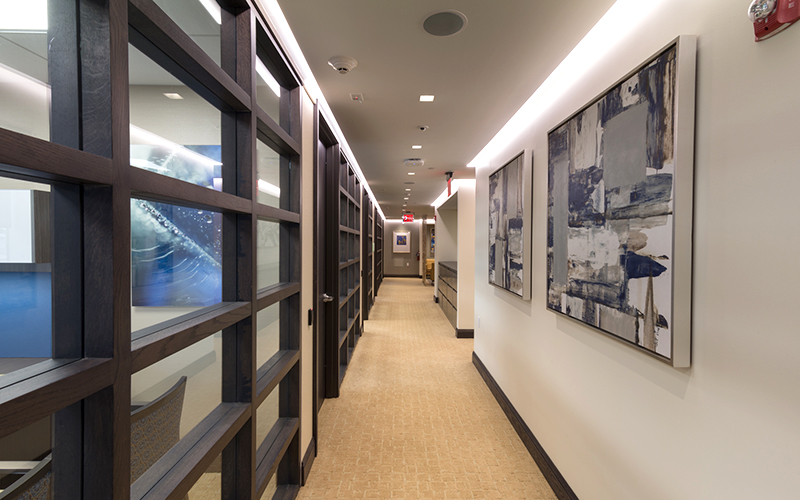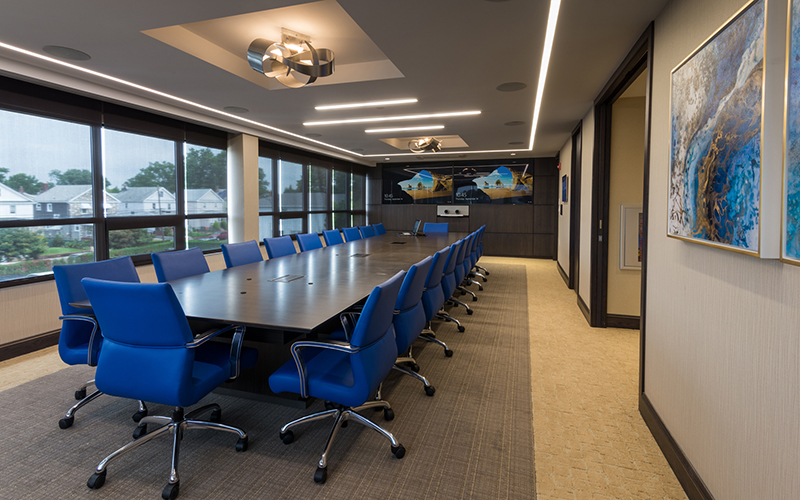 A few details exemplify the workplace philosophy: In the board room, JRS used spaces between ceiling joists to raise sections of the ceiling (and house surface-mounted light fixtures), thus creating a greater sense of openness despite the eight-foot ceilings. In the benching area, a large video monitor follows the financial markets, giving employees a real-time context for their work. Video monitors in conference rooms, the board room and executive offices are recessed into the walls, providing an unobtrusive – though always available – tool for communicating both within the headquarters and with remote colleagues.
JRS even transformed some of the building's sheltered parking area into a ground-floor bank branch with access from both the rear parking lot and the building's lobby. The headquarters truly embodies the "community bank" theme by giving retail customers a reason to visit. There's also an ATM on the side of the building.
The firm trimmed the three-story lobby to two stories, adding usable space on the building's third floor to accommodate the fitness center. To prevent the reduced height from giving the lobby a closed-in feeling, JRS extended the space by 100 s/f to the edge of the building's footprint, eliminating a curved edge that had truncated the space. The muted blue and gray color scheme helps to project an airy, welcoming feeling.
The building's exterior – particularly the ribbon of blue-framed windows – extends Hanover Community Bank's corporate color scheme. The blue corporate logo, placed on adjacent sides of the building, is a distinct branding element that stands out on one of Nassau County's busiest commercial stretches. The logo's message is subtle but clear: There's a new banking headquarters in town.
JRS Architect, P.C. is a full-service architectural firm that also provides interior design, programming, project management and preservation services. Since the company's inception in 1986, JRS has been directly involved with the design and construction of corporate offices, banks, retail stores, schools, healthcare facilities, restaurants, hotels, industrial/warehouse spaces and multifamily units. The firm has served a clientele that ranges from Fortune 500 companies to start-ups. With a staff of professionals in Mineola, N.Y., and Princeton, N.J., JRS Architect, P.C. is recognized for innovative design and creative solutions born out of solid experience and industry knowledge.