Thompson, NY Governor Andrew Cuomo celebrated the grand opening of the Resorts World Casino. The $1.2 billion private investment resort features a 100,000 s/f gaming floor, a hotel, and dining, retail and entertainment options as part of a larger development project on the site. Resorts World has created 1,500 permanent jobs at the resort, with another 600 expected once the entertainment village, water park and golf course open. Resorts World projects the resort and casino to bring in four million visitors per year. Resorts World Casino is the fourth commercial casino to open in the state since voters approved the New York Casino Gambling Amendment in 2013. As of December 2017, the total gaming tax paid to the state was over $106 million, and over 4,800 permanent jobs have been created.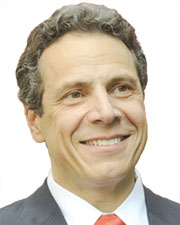 "For generations, the Catskills have served as a recreational and entertainment destination for people across the country," said governor Cuomo. "This new resort truly heralds the rebirth of the Catskills, and will serve as an economic driver, generating thousands of jobs and opportunities for people in the region."
Governor Cuomo's Upstate New York Gaming and Economic Development Act of 2013 mandated that all state revenue from Resorts World and the other commercial facilities be returned to localities. 10% of the state's tax revenue from the casino will be split between the town and Sullivan County for hosting the facility. Columbia, Delaware, Greene, Orange and Ulster counties will share 10%, and the remaining 80% of revenue will be distributed statewide to support public education and provide tax relief to New Yorkers.
By March, Resorts World will have created and filled 1,500 permanent jobs with the casino opening. Another 600 positions will be created when the 324-room Kartrite Hotel, Indoor Waterpark and spa opens in 2019. In addition, local governments–the town, Sullivan County and local school districts and neighboring counties in the gaming region established by the state–will see a positive, direct impact from Resorts World Casino through their share of the casino's gaming tax payments to the state.
The casino's gaming floor features 2,151 slot machines, 150 table games and a poker room. In addition, Resorts World Casino guests will also enjoy: 27,000 s/f of multi-purpose meeting and entertainment space; Cellaio, an Italian restaurant, helmed by celebrity chef Scott Conant; The Doubletop Bar and Grill, Empire Lounge, and Bar 360, each a different experience for patrons; Asian fine dining at Lotus and casual Asian grab and go at Good Friends Market; and The Kartrite Hotel and Indoor Waterpark, to open in early 2019, featuring an entertainment village with retail, restaurants and the renovated Monster golf course.
Over 3,000 union workers have been employed during the construction phase of the project, working 1.8 million hours with a total construction cost of over $520 million. In 2017, Resorts World spent nearly $1 million per day on construction activity. At Resorts World, 75% of the 1,300 permanent employees hired to date are women or minorities.
Ryan Eller, president and CEO of Empire Resorts, said, "Today marks an exciting new era for us. I'm incredibly proud of all of the hard work and dedication from our staff, local officials and the community that went into making this day possible. We're committed to having a positive impact on the region and we're looking forward to continuing to collaborate with the local community to ensure this happens. We are open for business and are ready to offer our guests unparalleled gaming, world-class amenities, and thrilling experiences like no other in the region."
Resorts World Catskills was developed by Empire Resorts, a real estate development company that owns and manages several subsidiaries in the hospitality and gaming industries. The company owns Monticello Raceway through its subsidiary Monticello Raceway Management, Inc. Empire, through its subsidiary Montreign Operating Company, has entered into a license agreement to use the Resorts World brand for the casino. The company was awarded a gaming facility license to own and operate the casino in 2015.