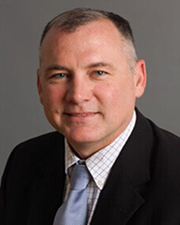 All city skylines have large commercial buildings that consist of hundreds of thousands of windows. Architects for these building utilize various types of window systems for their façades; however, the most common choice amongst newer (or newly renovated) commercial buildings are unitized curtainwall systems.
Curtainwall systems are primarily comprised of aluminum mullions and glass panels that are supported from the top like a curtain hanging off the side of each floor of the structure. The American Architectural Manufacturer's Association (AAMA) defines curtain wall as "a non-load-bearing exterior wall cladding that is hung to the exterior of the building, usually spanning from floor to floor. Curtainwall vertical framing members run past the face of floor slabs, and provision for anchorage is typically made at vertical framing members only. In contrast to combination assemblies and composite units, non-residential curtainwall systems often need to meet additional performance requirements for inter-story differential movement, seismic drift, dynamic water infiltration, etc."
1. Anchors just at the top of the unit.
2. "Stack Joint" that joins the two units together and provides lateral movement from wind and associated inter-story drift.
3. Chicken head gasket that seals the two units together at the stack joint.
Unitized curtainwall systems are popular with developers and contractors due to the ability to manufacture them off-site and their simplicity of installation while on-site.
Unitized glass curtainwall is often manufactured in a controlled facility utilizing a production line type process. This allows for better quality control and greater efficiency compared to fabrication in the field. However, as further discussed below, these facilities are not immune to introducing deficiencies into the assembled units.
After the unitized curtainwall panel is assembled in the factory they are packaged and delivered to the project site. There are various methods of installation utilized by glazing contractors to install the curtainwall, however the most efficient method has been to lift units from the floor and install in place. Depending on the complexity of the window system, contractors can install upwards of 50 to 80 unitized panels per day.
The Falcon Group was requested to review the condition of a newly installed curtainwall system at a 48-story residential tower located in northern New Jersey. The residents of the property complained of water leaks, rattles and whistles emanating from the curtainwall system.
Utilizing an exterior swing stage system to access the entire exterior of the 48-story tower, Falcon reviewed, documented and photographed numerous glazing and sealant deficiencies on the curtainwall system.
Once the deficiencies were documented for the entire building, a glazing contractor was retained to correct any noted deficiencies within the curtainwall system. These sealant deficiencies corrected any water intrusion issues and increased the life span of the exterior façade.
These types of curtainwall issues are easily prevented with a detailed quality control program that starts with the fabrication and continues with delivery to the site and finally during installation. Each of these stages allows opportunities to correct any noted deviations from the drawings and specifications and avoid corrective work after installation.
When constructed properly, curtainwall systems can provide a long-lasting protection from the elements. However, if manufactured or installed incorrectly they can cause a nuisance with noise and damage from water intrusion. To prevent issues with your curtainwall system, you should contact a certified professional.
A detailed inspection and testing of curtainwall systems immediately after installation is strongly encouraged. Verifying their integrity and quality control early in the process will significantly reduce future complaints from tenants regarding water intrusion and noise. These types of inspections can also be performed as part of a transition report.
Tom Linus, PE, LEED AP, is a director of forensics at The Falcon Group, Bridgewater, N.J.