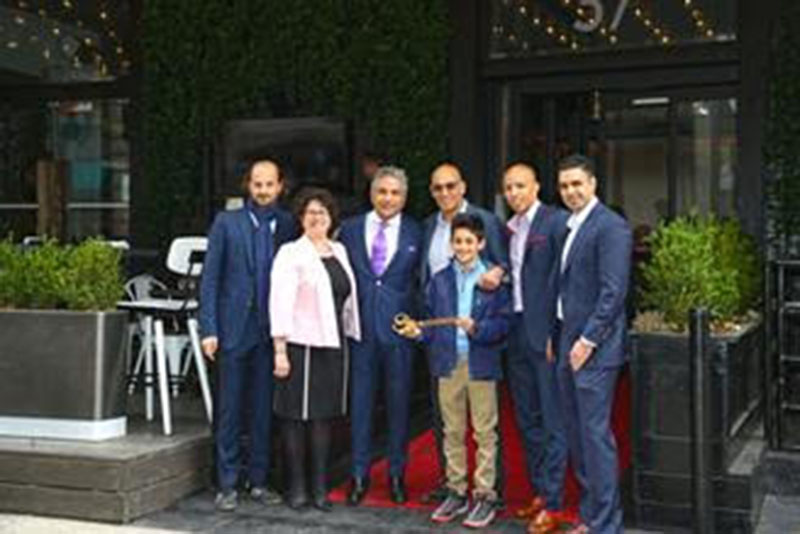 Manhattan, NY To continue the success of a hotel portfolio beginning with the Garden City Hotel in Long Island, followed by Hotel Hugo in SoHo and the re-energized Hotel Hayden in the Flower District, developer Morris Moinian of Fortuna Realty Group has launched the latest addition with the opening of Hotel Henri. Located on 37 W. 24th St. between 5th and 6th Aves. near the Chelsea, Flatiron and Gramercy districts, the 118-room Hotel Henri merges contemporary style with a hint of theatrics for those seeking an authentic New York stay. Hotel Henri is home to American restaurant, Shay & Ivy, which is the second establishment by the restauranteurs behind the acclaimed Atwood Kitchen & Bar Room, Evan Rosenberg and Daniel Rieger.
"In surveying innovation-charged neighborhoods like Chelsea, Flatiron and Gramercy, it was evident that the hotel stock available did not satisfy the creative communities and travelers frequenting these areas. Thus, my company seized the opportunity to introduce a bespoke, boutique hotel to W. 24th St.," said Moinian, principal and founder of Fortuna. "With the opening of Hotel Henri and continued success of Shay & Ivy, we're bringing an 'urban cool' lifestyle that many people associate with Downtown Manhattan or Brooklyn up to Chelsea."
As the latest addition to Fortuna's hospitality portfolio, Hotel Henri offers entirely redesigned guest rooms with a rustic, contemporary design aesthetic. The property will also introduce an open-air penthouse lounge this summer with city views for visitors and insiders from the city's creative, fashion and tech communities. Moinian appointed Italian architect and interior design innovator Marcello Pozzi to design Hotel Henri, bringing it to life as an urban retreat with a theatrical motif inspired in part by nearby Broadway.
Pozzi's past assignments within Fortuna include the restoration of the historic Garden City Hotel and the design of Hotel Hugo.
"My aim through the design is to have Hotel Henri personify a contemporary dandy, reminiscent of the stylish man-about-town from yesteryear," said Pozzi. "The interiors take a nod from Broadway with a spin; I used my fascination for the backstage experience of the theaters to make every guest feel a bit like star, for example, mirror lights in the bathrooms that reference backstage dressing rooms. There's even a splash of theatrics in-room, with the inspiring words of French writer Charles Baudelaire "always be a poet" that adorn the walls."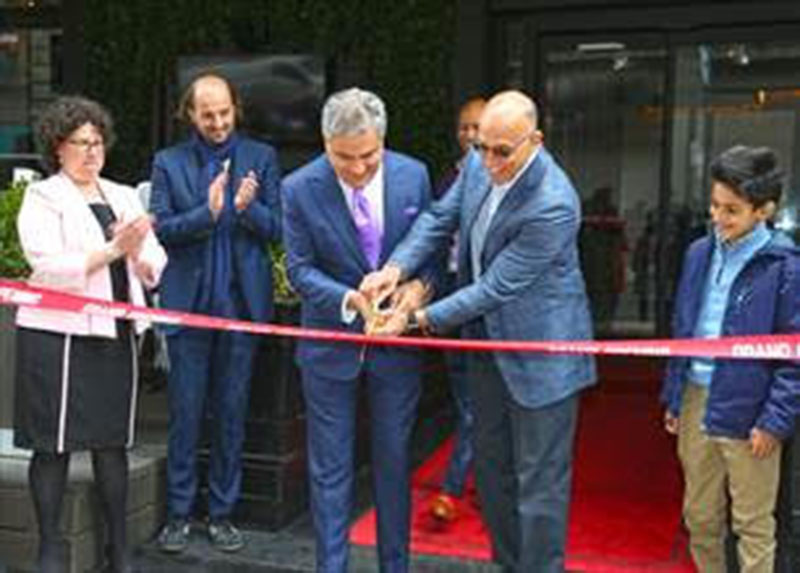 Accommodations consist of Double Deluxe, Premium King and Premium King with Balcony and skyline or street views. Hotel Henri's contemporary guest rooms feature beds backed by Italian-designed wood paneling and graffiti-inspired artwork. The guest rooms feature spa-style granite bathrooms, working stations with desks and 32" HDTVs. Select quarters have private walk-out balconies with skyline views. In-room amenities include plush bathrobes and hairdryer bags branded with the Hotel Henri insignia, and a specially curated mini bar of snacks and beverages, Keurig coffee machine with coffee and tea K-cups.
With executive chef Brad Warner at the helm, Shay & Ivy features an approachable take on seasonal, local flavors brought to life through signature dishes such as the Chili Salmon Crudo, Burrata and Buttercup Squash, Amish Free range Roast Chicken, and Grilled Berkshire Pork Chop for two. These are paired with a curated cocktail program with high-quality ingredients and spirits, fresh-pressed juices and a premiere coffee program. Embellished with lush greenery, caramel banquettes and natural woods and stone throughout, the 2,400 s/f Shay & Ivy has a 90-seat interior dining room, a 36-seat patio, and a private event space (Garden Room) featuring a separate bar to accommodate private events.
Hotel Henri resides on W. 24th St. between 5th and 6th Ave. – a short walk from Madison Square Park. Positioned in Chelsea and near the Gramercy and Flatiron districts, Hotel Henri is surrounded by a resurgence of new restaurants, fashion and entertainment options, and condominium developments. Nearby transportation hubs include path trains from 23rd St. and 6th Ave., the F and M Lines at 23rd St. and 6th Ave., and the R and W Lines at 23rd St. and Broadway.