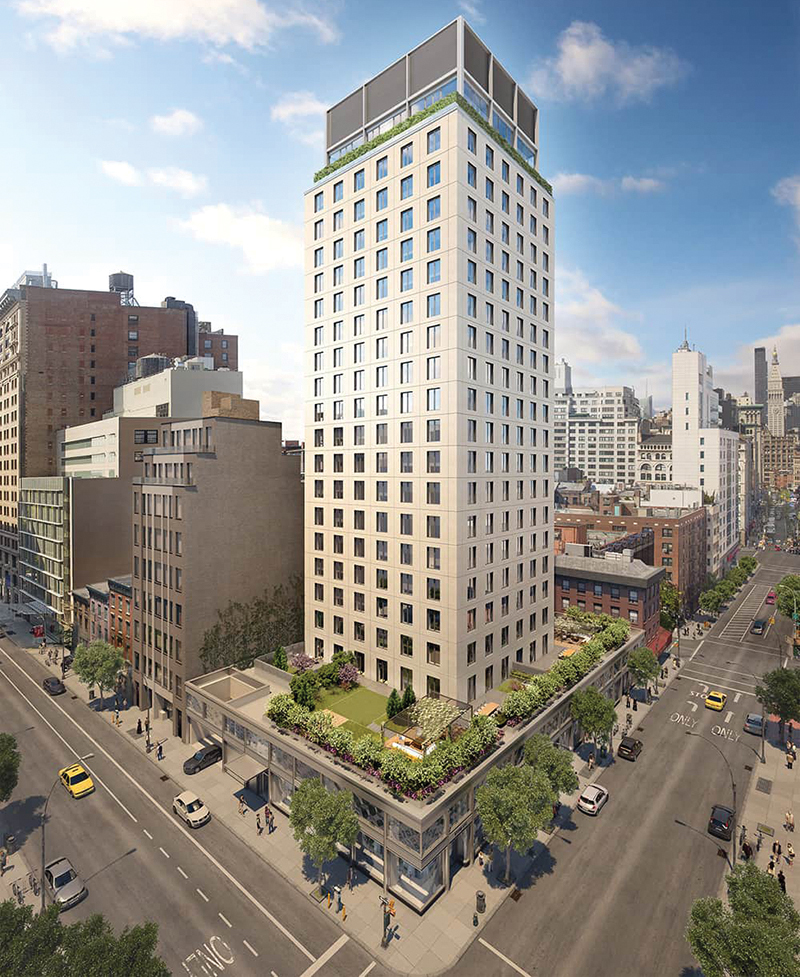 Manhattan, NY ESCC has been tapped by William Macklowe Company (WMC) to help secure the future residents of 21 East 12th St., the company's latest development located in the Greenwich Village neighborhood.
The 22-story, 52-unit condominium complex was designed by Selldorf Architects.
William Macklowe Co.'s founder and CEO Billy Macklowe worked extensively over the last several years to secure the rights to develop the former Bowlmor Lanes site and has entrusted ESCC to deliver a comprehensive security and communications platform that is both sophisticated in its technology but also discrete enough so as not to interfere with the building's architectural design – or resident's peace-of-mind.
According to Macklowe, "Luxury condominium towers such as 21 East 12th St. attract residents whose expectations are uncompromising when it comes to their security. At the same time, it is imperative that the security systems of the building do not impair the quality of life for the residents. Discretion in the implementation of the technology involved is a key component to achieving this goal. With 21 East 12th St., ESCC has taken on a truly remarkable project not only in its technical demands but also in providing the building and its residents a sense of safety that comes with knowing that an expertly integrated network is overseeing their residences with the least possible interference in their day-to-day lives," he said.
ESCC has been tasked to supply and install the tower's low-voltage security and communications infrastructure. These systems include access control systems, ip-based cctv, back-of-house communications systems, as well as providing the low-voltage cabling network that will keep the building's systems fully-integrated and online 24/7/365.
Robert Horowitz, president of ESCC, said, "21 East 12th St. is an excellent example of a build-out that is 100% in keeping with our history of providing leading-edge security and communications solutions to some of New York City's most prominent condominium and luxury-apartment developments."
Growing with an Ever-Changing Skyline
While the borough and the surrounding area continues its current pace in new luxury construction, ESCC seems positioned to grow with the increasingly complex challenges that luxury housing such as 21 East 12th St. demand.
According to Horowitz, "This site is truly characteristic of the changing security and communications demands of properties at this level. With projects such as this coming online on a near regular basis, ESCC looks forward to meeting the new security and communications challenges that will inevitably come with this remarkable growth in New York City and across the country. We very much look forward to securing these types of developments in the months and years to come."