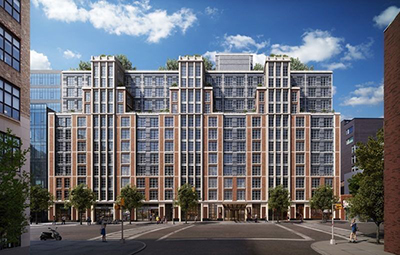 Manhattan, NY Leading the way in new residential development patterns westward from SoHo's Broadway shopping district, 261 Hudson is an representation of classic-meets-contemporary architecture in the West SoHo neighborhood.
The Robert A.M Stern designed and Related Companies developed the residential building, which keeps the historic aesthetic of the neighborhood alive by espousing pre-war architectural elements.
Robert Horowitz, president of ESCC, said, "261 Hudson is characteristic of the new kind of luxury housing that is modernizing downtown. With this increase in development and as more residents move to the area, there is a need to ensure their security and safety with discrete yet sophisticated security and communications systems. In the case of 261 Hudson, ESCC accomplished exactly that."
ESCC designed and installed several different types of security and communications systems in 261 Hudson including access control, IP-based CCTV, door-entry technology, an intercom system as well as installed cabling to help integrate these systems throughout the building. Because of the nature of the building as a rental property, access control and IP-based CCTV were essential to the build-out.
Horowitz said, "As luxury rental apartments have relatively higher move-ins and move-outs than a standard condo building it is important that a seamless access control system was in place to ensure smooth entry and ensure safety for new and current residents alike. An IP-based CCTV system also helps secure the interior and perimeter of the building to help prevent unauthorized access and monitor the area in real-time reducing the response time needed to respond to emergency situations."
As more developments attract residents who have safety on their minds, security and communications systems become a marketable component for management companies looking to draw new renters. Attracting tenants to apartment buildings such as 261 Hudson means not only having fitness centers, sun lounges and technology centers but also that every unit and common area is secured with an online network that monitors the building 24/7/365.
Horowitz said, "We are finding that more developments such as 261 Hudson are not satisfied with using merely basic security and communications systems in their property. As leading-edge, state-of-the-art networks are becoming the gold standard for residential luxury apartment buildings they are also a non-negotiable demand for renters in the market as well. For property managers, knowing that their systems are designed and installed by ESCC can be an attractive selling point in their marketing efforts."
Horowitz said, "As the high-end security and communications systems ESCC provides to luxury buildings becomes a draw for renters and management companies alike, we look forward to meeting and exceeding their expectations in the systems that we provide."