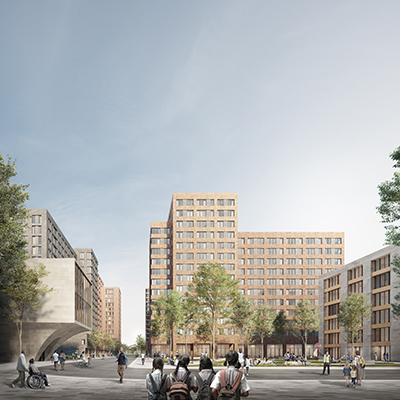 Brooklyn, NY Christian Cultural Center (CCC) and Rev. A.R. Bernard formed a partnership with the Gotham Org. to transform CCC's East New York campus into a sustainable, pedestrian friendly, mixed-income community. The proposed development will supplement the existing church facility with 2,100 new income-based affordable residential units in addition to numerous purpose-built neighborhood amenities thoughtfully envisioned to support civic, spiritual, educational, cultural and economic opportunities.
Under the leadership of Bernard, CCC has become one of the largest houses of worship in NYC with 45,000 active members. CCC integrates institutional and intellectual elements with spiritual teachings to create a dynamic experience that has served as the foundation for a vibrant East New York community. CCC has created outreach programs that support the community, including a food pantry, prison ministry, charter school and educational partnerships with the NYPD.
"At this critical moment for East New York and this city, we are committed to uplifting our community and are blessed with the real estate to be able to make a significant impact," said Bernard. "Our vision is to make this site a model for sustainable urban development, showing how a mixed-income community can grow sustainably, phased over time, with the right mix of support services, education, cultural institutions and shared public spaces."
Anchored by the creation of approximately 2,100 income-based affordable housing units, including dedicated housing for seniors and families, and a new performing arts center, the development will implement a holistic approach to community designed to maximize diversity and enhance economic opportunity. The plan includes often overlooked services, potentially including uses such as 24-hour child care facilities, a fresh food grocery store, vocational training services, necessity retail destinations, walk-in medical services, a senior center, recreational athletic space and more than two acres of public open spaces. Seamlessly connected by walking paths and green spaces, these services combine to create a collaborative, accessible, 'urban village' lifestyle.
The anticipated retail will provide residents with easy access to daily necessities, while the performing arts center has been envisioned as a community-focused meeting and event space. Each proposed service will foster a collaborative, engaged community. In addition, a shuttle service will be provided to connect residents to the L and 3 train lines, providing easy access to critical infrastructure needs.
The project's master plan – designed by architect Vishaan Chakrabarti and his innovative Practice for Architecture and Urbanism (PAU) – repurposes the campus' surface parking lot into a vibrant, active community, with CCC at its core. As the anchor in this new development, CCC will ensure that development in East New York is attainable for those who live in the community.
"When we traditionally think about infrastructure, it's transportation and utilities. Today, we know that for a community to succeed it needs access to a broader infrastructure of opportunity – open space, education, health care, child care, social opportunities and culture. Each of these things is considered in the plan that we have prepared with Gotham to advance Rev. Bernard's vision for a sustainable and equitable community," said Vishaan Chakrabarti, FAIA, founder of PAU.
Critical components of the plan include a vocational training facility and a performing arts center that will be open to the East New York community at large. The vision for these facilities is to provide the support and flexibility that members of the community need to pursue employment opportunities and advance educational training that will generate upward mobility to better paid, sustainable careers.
CCC chose Gotham as its partner to help plan and build the desired services and necessities, building on Gotham's long history of partnership with New York institutions to build affordable housing, schools, community facilities and cultural spaces.
"Gotham has a long history working with community organizations and City government to provide much-needed housing and other community amenities. We look forward to working with CCC to realize their vision for the future of East New York and look forward to working closely with residents to further enhance its programming," said Gotham Executive Vice President of Development Bryan Kelly.