Peekskill, NY According to owner Kurtsam Realty Corp., Blue Mountain Plaza, a 66,000 s/f shopping center, is getting a fresh new look thanks to a multi-million dollar capital improvement program that includes expansions and renovations by the McDonald's, CVS Pharmacy and a wide range of capital improvements to other stores including new façades and businesses in the center's three buildings.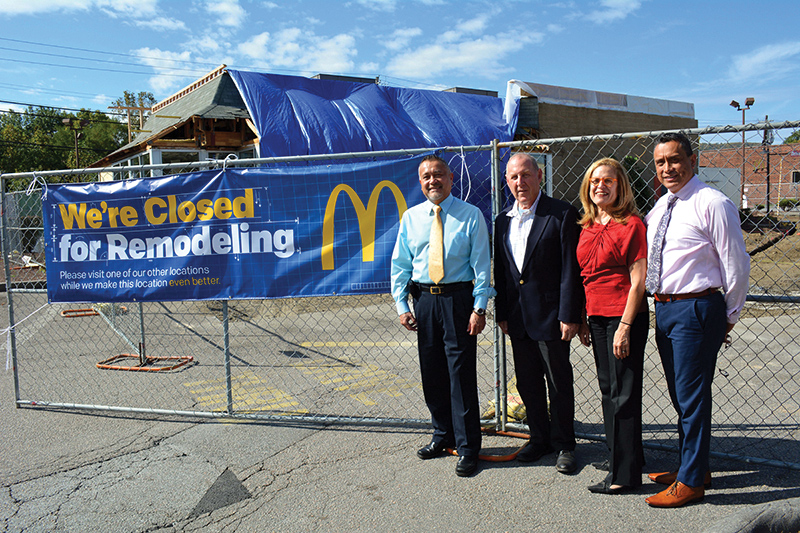 The first large-scale element of the program that will be completed is the major re-construction of the free-standing McDonald's, located at the southwest corner of the center. The nearly $1 million project encompasses an exterior and interior modernization of the existing 3,200 s/f restaurant.
The new design will feature a contemporary exterior that trades the traditional red roof for soft shades of gray. The interior will be remodeled and include features such as digital menu boards and touch-screen kiosks where customers can customize their orders and have them delivered to their table. The restaurant will also be launching a smartphone mobile app for ordering.
A new two-lane drive-thru will accommodate the restaurant's busy drive-thru business. According to franchisee owner Carlos Wong and franchisee Operations Head Victor Wong, whose company also operates McDonald's in Mohegan Lake, Mahopac, Poughkeepsie and Dover Plains, the redesign is consistent with a modernization initiative that extends across the state.
"We are very excited about the redesign and modernization of our Peekskill restaurant," said owner Carlos Wong. "This has always been an excellent location for us and we anticipate an increase in business as a result of the modernization."
Operations Head Victor Wong said the restaurant will stay open as much as possible during the renovation work. It will be completely closed only for a short while. "When completed this will be the most cutting-edge, free-standing McDonald's in the area," Wong said.
The other large-scale renovation will see the existing small CVS expanding from 3,600 s/f to 14,000 s/f. CVS is expanding from its current store to occupy the entire end of the center's 20,000 s/f east building allowing it to offer a drive-through lane for prescription pick-ups. The greatly expanded store is expected to open late next year.
"There is a reason CVS is the largest retail pharmacy in the United States. We are constantly innovating and look forward to bring this spirit to our Blue Mountain shoppers with in-store discover zones, preventative self-care products, healthy "on-the-go foods" and new beauty lines, among others," said Michael Di Buono, store manager for the on-site CVS.
The Trustco Bank, currently situated where CVS will be, is relocating to a new space being built at the opposite end of the building providing a strong balance. Between CVS and the bank will be long-time tenants at the center Chinatown Kitchen, Forever Yours Flowers, Golden Scissors Hairdresser and shoemaker Sole Man, who recently located to the center.
The building anchored by Green Grocer has undergone an interior renovation. The supermarket, formerly known as Key Foods, is also getting a new façade as will the other tenants in the 34,700 s/f building which also includes an R&W Dollar World convenience store and Patriot Cleaners & Laundromat.
"Our aim is to bring consumers healthy, affordable and convenient one-stop food shopping," said Green Grocer store owner Alex Davashi. "Our offerings cover the gamut from fresh, local vegetables to quality meat, fish and prepared foods, all with a neighborhood feel."
Kurtsam Realty, based in Croton-on-Hudson, has made a commitment to renovate and reinvigorate the center which was anchored by an A&P supermarket since the center opened in 1959. The center was expanded twice, first in 1970s and again in 1994. Company president Joanne Landau said the new improvement program will enhance the customer experience.
"Because of its convenient, easy-to-reach location immediately off the Welcher Ave. exit of the Rte. 9 expressway, this center has long attracted shoppers from an area stretching south and east from Garrison to Croton that includes the Village of Buchanan, the Verplanck, Montrose and Crugers hamlets and a large area of the Town of Cortlandt," Landau said.
Property manager Fred Schwalb said, "The extensive improvements being made by our company and our major tenants are now well underway and the results will be seen beginning this fall and continuing through next year. Our strong tenant line-up made for perfect timing. We appreciate the commitment of our tenants to keeping this important shopping and eating option vibrant and successful."
In addition to the work on the retail areas, Kurtsam has been making extensive improvements to the common areas including repaving and restriping the parking areas, new environmentally sensitive outdoor lighting and upgraded landscaping.
"When the entire project is complete," said Schwalb, "we'll have a state-of-the-art center that provides high-quality, easy-access shopping and services for the entire area. Parents can drop their kids off at karate, do a quick food shop and pick up a prescription. Others can have a meal, drop off their shoes for repair and have a haircut," said Schwalb adding, "We're just one exit away from the new entertainment complex at Route 9-John Walsh Boulevard. Come our way and shop."
Schwalb noted that people will begin seeing the first of the improvements this fall and they'll keep coming over the ensuing 12 months.
Kurtsam Realty Corp, and related companies, is a private, family-held real estate investment business founded in 1953. The companies are 100% woman-owned. The main properties consist of grocery- and drugstore-anchored community shopping centers and commercial warehouse space in New York State. As owner-managers, the companies focus on property management, leasing and refurbishment. The owners pride themselves on strong tenant relations and municipal interaction.