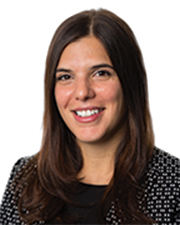 Name: Nicoletta Pagnotta
Title: Vice President
Company Name: Meridian Capital Group, LLC
Years in real estate: 13
What real estate associations or organizations are you a member of? Commercial Real Estate Women Network
How have you navigated obstacles to achieve success in your career? Most importantly, stay informed, remain connected and know your markets. One of the biggest challenges in the real estate finance world is that it is constantly changing. Even when the markets seem relatively stable, there could be subtle occurrences across the globe that are impacting our environment. By remaining up-to-date on any changes occurring in the market, I am able to continue educating and informing the clients. It is also important to remain connected with lenders to understand the changing regulatory challenges that they are facing. It's helpful to know the demands being placed on the lenders to communicate to the clients what we are seeing in the market.
How do you play your strengths to your advantage in your career? Since I started my career as a real estate professional, clients are always able to contact me anytime and anywhere. Constant communication with the client has been important a strength of mine throughout my career and I always provide them with service on par with private banking. My clients are aware that they can always connect with me to help guide them along each step of a transaction. I've found that it is this level of service that differentiates one broker from the next.
What trends are you seeing so far this year? The real estate finance market seems to be changing and everyone appears to be cautiously optimistic. While no one truly can predict what the year will bring, my clients have been able to take advantage of a favorable rate environment for the first half of the year. My focus is to help my clients secure the best financing options in the market, while they are available.
What do you do for fun? I love to spend my weekends with my husband and our darling ten month old daughter. Then there is the occasional spin class, which gives me the much-needed energy to keep up with the little one!