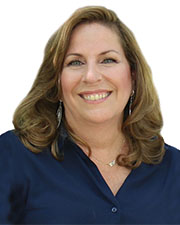 Name: Karen Cohen
Title: President
Company Name: Karen Cohen Commercial Realty & Associates
Years in real estate: 10
What real estate associations or organizations are you a member of? National Association of Realtors, NY Association of Realtors and The Brooklyn Board of Realtors.
How have you navigated obstacles to achieve success in your career? Navigating a career and a growing family is no easy feat. The work/family balance is a daily challenge, especially for a woman in the commercial real estate world. Trust in yourself can sometimes be an obstacle, but creating and having a support system in your life is the key to navigating obstacles. That means family and staff understanding what's most important at any given time and helping you to achieve it. I believe that behind every successful person, man or woman, is a team of dedicated people supporting, encouraging and enabling them to do the best job possible. I am honored to be a commercial real estate broker in today's world. And I am proud of the support system that helps me along this road and allows me the freedom to do it all.
How do you play your strengths to your advantage in your career? Strength starts with respect. Respect for yourself. Respect for others. Hardwork. Dedication. Passion. Trust. That is how I define strength and success. It's about connecting with other people. It's not about how many deals you do a year, it's about how you leave people feeling when the deal is finished. That's how you create value for your client. It's about relationships. Do they feel you did right by them? Were they happy? If they were, they will always come back to you. That's smart business. That is what gives you an advantage. I was at a real estate event last year and a female developer was making a speech. She said, "I have never apologized for being a woman and a mother and I never will." That quote truly inspired me. It inspired me to create my new commercial real estate company, Karen Cohen Commercial Realty & Associates.
What trends are you seeing so far this year? I am seeing a disconnect between landlords and tenants in relation to asking rents.
What do you do for fun? I have a large and growing family so I love to cook. My family is a huge part of my life and they are what I enjoy most in life (aside from real estate). Nothing makes me happier than spending time with my husband, my children and my grandchildren.