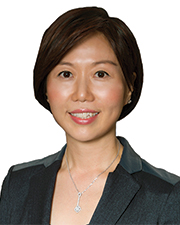 Name: Helen Hwang
Title: Senior Executive Managing Director
Company Name: Meridian Investment Sales
Years in real estate:17.5
What real estate associations or organizations are you a member of? REBNY
How have you navigated obstacles to achieve success in your career? Having immigrated to the U.S. from a small South Korean village at a young age and not really knowing the alphabet, I understood pretty quickly what a real obstacle was. I learned early on how to overcome challenges by stepping out of one's comfort zone and doing what needed to be done to succeed. Whether it was learning the language and culture or launching a new investment sales team, I've always taken a head-on approach to problem solving. I tend to do well in pressure-filled situations, which is great in real estate! In fact, people have told me that I have an uncanny ability to calmly solve issues by dissecting them, while keeping the big picture in focus at the same time, which can be a big advantage in dealing with real estate transactions.
How do you play your strengths to your advantage in your career? Optimism, tenacity, creativity, and honesty are the cornerstones of my success. Applying these strengths, while also recognizing and improving upon my weaknesses, has played a large role in both my professional and personal accomplishments. I also have never been averse to taking risks in my career, and in an industry that can deliver great rewards for taking calculated risks, that has been a great advantage. I am very proud of my team and the family-like corporate culture we have cultivated over the years. My colleagues are my brothers and sisters, who I respect and appreciate for their loyalty, hard work and strong talents. It is great to know that everyone looks forward to coming to work every day.
What trends are you seeing so far this year? What we are seeing in the Manhattan market is growing activity for smaller transactions with less velocity for deals priced between $50 million and $500 million, where many institutional investors are usually most active. Simultaneously, there is more real estate private equity capital earmarked for placement than ever before. We expect the market to pick up in a meaningful way in the second half of the year. I also consider big picture trends that impact our market, such as the collaboration of technology, media, entertainment, and politics, which can profoundly impact all industries. I always look forward to participating in various tech and business events and meeting people with different backgrounds. The way we process the evolution of technology will continue to redefine our conceptions about real estate – something our group is always focused on staying ahead of.
What do you do for fun? I've been attending bible study regularly for 17 years. I love cooking and making kimchi with my family, and playing tennis. I recently joined a hip hop dance class and frequent Koreatown karaoke bars. I also own a 350-acre organic farm in Pennsylvania.