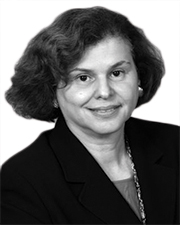 Name: Diane Schottenstein
Title: Attorney
Company Name: Schottenstein Law
Years in real estate: 20+
What real estate associations or organizations are you a member of? City Bar Association Real Property Law Committee, Legislative Sub-Committee
How have you navigated obstacles to achieve success in your career? "Keep shooting arrows" – I heard this phrase constantly when I was growing up. While it might have been annoying then, I live by the phrase today. If something isn't going right, it almost always is worth giving it another shot. In law, I try to negotiate around obstacles. I believe resourcefulness, perseverance and a little creativity is necessary for success.
How do you play your strengths to your advantage in your career? In any career, your relationships and reputation matter above all else. If you treat people well and are reasonable, you normally can change the dynamic of the conversation to one of mutual respect. When negotiating, I'm looking to have a constructive conversation, so that both parties can walk away happy. It's not a zero-sum game.
What trends are you seeing so far this year? I believe there will be more investment in the Bronx, and parts of the Bronx will start transforming in similar ways Brooklyn has in the past decade. In addition, as more of brick-and-mortar retail moves online, malls will need to reinvent themselves to provide an experience above and beyond the physical location. Lastly, there will be more tech innovation in the real estate space – I recently co-authored an article on how the blockchain will disrupt parts of real estate.
What do you for fun? I like to paint, travel, visit museums, read, and play tennis.