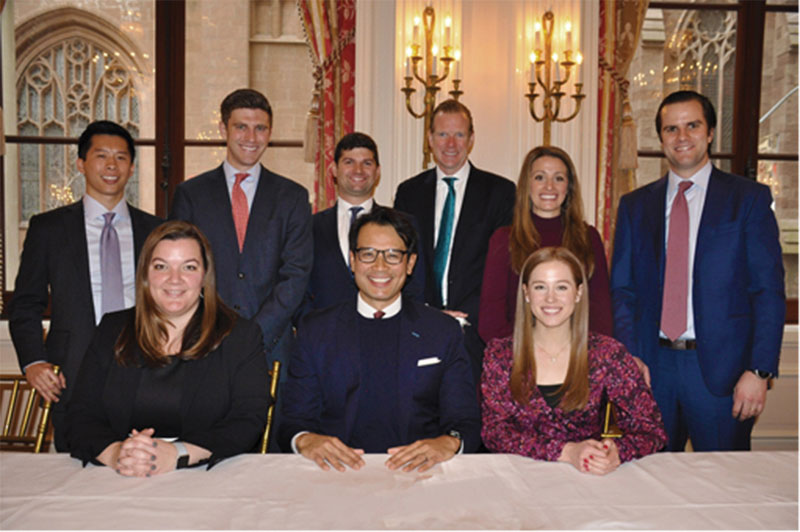 New York, NY On Tuesday, January 14th, the Young Men's/Women's Real Estate Association of New York (YM/WREA) Kevin Hoo, Managing Partner, Cove Property Group, at The University Club for a real estate discussion.
Hoo shared insights on his career and his path to starting Cove. He went into detail on his two largest transactions, 441 Ninth Ave., and 101 Greenwich St., totaling over 1.1 million s/f of commercial space.
YM/WREA has named its new executive board of governors for 2020. The board will be responsible for organizing industry luncheons and charitable events throughout the year. The monthly luncheons are held at the University Club, which has hosted speakers, such as Scott Rechler, Bill Rudin, MaryAnne Gilmartin, and Larry Silverstein over the past few years. The charitable events are often in collaboration with non-profits, including Operation Backpack, Habitat for Humanity, iEat Green's Annual Thanksgiving Feast for Those in Need, The Fresh Air Fund, Cycle for Survival, Rebuilding Together NYC, and NY Cares.
The 2020 Board is comprised of the following individuals:
Laura Jackson – Chairman
Caroline Merck – Vice Chair
Alex Kaskel – Governor (Press/Social Media Liaison)
Alan Bernstein – Governor (Website Liaison)
James Nelson – Governor (Education Liaison)
Lauren Calandriello – Membership
Ryan Lee – Secretary
Forrest Mas – Treasurer
Jackson is a managing director in the FTI Real Estate Solutions practice and is based in Roseland, N.J. and N.Y. Jackson graduated summa cum laude and first in her class with a B.S. in business administration and concentration in accounting from Monmouth University and an M.S. in taxation from Fairleigh Dickinson University. She is a Certified Public Accountant in New Jersey and is a member of the AICPA, NJSCPA, NAREIT, NAIOP, and CREW New York. Ms. Jackson currently serves as Vice President on the board of Rebuilding Together NYC, a non-profit organization for safe and healthy housing throughout New York City.
Merck is a senior associate in The Agency group based in CBRE's Midtown Manhattan office. Merck earned her bachelor's degree from Furman University in Greenville, S.C. in 2013. She is a member of the Real Estate Board of New York (REBNY) and received CBRE's Manhattan Agency Group Professional of the year in 2016. Additionally, she is an active member of the New York Junior League.
Kaskel is a managing director at ABS Partners Real Estate. Kaskel graduated with a BA from the University of Michigan. He is on the Carnegie Hall Real Estate Council, is on the REX Next Committee of the UJA-Federation of New York, is a Washington Club member of AIPAC, and serves on the Leadership Council of the American Cancer Society's Financial Services Gala.
Bernstein is senior vice president at Waterman Interests. Bernstein graduated from Tufts University with highest honors and previously worked at Apollo Global Management in its Real Estate Private Equity group.
Nelson is principal and head of Avison Young's Tri-State Investment Sales group. Nelson is also the chairman of REBNY's commercial board of directors, a board member of both the Citizens Budget Commission and the Catalog for Giving, and founder of the Real Estate Services Alliance and the Colgate Real Estate Council.
Calandriello is a key member of the professional brokerage staff of JRT Realty Group, Inc. Calandriello graduated Cum Laude with a Bachelor of the Arts in Communication and Psychology from Rutgers, The State University of New Jersey. She has the NYU Real Estate Financial Analysis Professional Development Gold Standard Course Badge. She is a member of the Real Estate Board of New York (REBNY) and is the vice-chair of the REBNY Upper Manhattan & Bronx Committee.
Lee is a first vice president on the investments team at RXR Realty. Lee earned a BBA with High Distinction from the Stephen Ross School of Business at the University of Michigan in finance and accounting. He is also a member of the Real Estate Board of New York (REBNY) and Urban Land Institute (ULI).
Mas is a director of North River Co. and its related entities. Mas earned his bachelor's degree from St. Lawrence University. He is currently a member of REBNY and the Long Island City Partnership.

Thanks for Reading!
You've read 1 of your 3 guest articles
Register and get instant unlimited access to all of our articles online.

Sign up is quick, easy, & FREE.
Subscription Options
Tags: