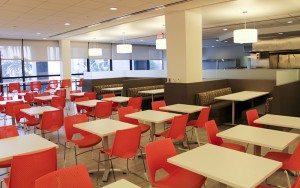 Interior of the Peter W. Rodino Federal Building ARRA project - Newark, NJ
Newark, NJ Tocci-Driscoll JV, a design-build joint venture between Tocci Building Cos., Woburn, MA and L.F. Driscoll Co., LLC, Bala Cynwyd, PA, achieved LEED Silver Certification, awarded by the United States Green Building Council (USGBC), for New Construction and Major Renovations for the Peter W. Rodino Federal Building ARRA project. The five-year project, overseen by the U.S. General Services Administration (GSA), included extensive Asbestos Containing Material (ACM) removal, a nine-floor gut renovation, and a building-wide HVAC system upgrade. Overall, the construction improved the 1968, 16-story building's energy efficiency by more than 20%.
Improvements included installation of new:
• Chillers that provide 27% space cooling energy savings;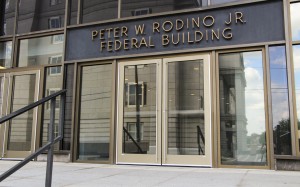 Peter W. Rodino Federal Building ARRA - Newark, NJ
• Cooling towers that provide 51% heat rejection energy savings;
• Solar domestic hot water panels for high zone plumbing fixtures to provide an estimated 183 Mbtu natural gas savings per year;
• Daylighting controls on the 9 renovated floors and efficient lighting fixtures that result in 27% interior lighting energy savings and 32% exterior lighting energy savings; and
• Variable speed pumps that provide 61% energy savings.
In addition to energy savings, the LEED program included construction waste and indoor air quality programs and use of green and of Low Volatile Organic Compound (VOC) products including paint, coatings, flooring, and wood and laminate assemblies. Support for this certification was provided by the GSA, their construction manager, Lendlease and the architect of record, KlingStubbins-Jacobs.