Professional Profile: Zachary Redding 2020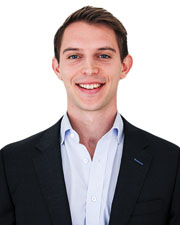 Zachary Redding
Name: Zachary Redding
Title: Director
Company: B6 Real Estate Advisors
Location: New York, NY
Birthplace: Wilkes-Barre, PA
Education: West Virginia University, Bachelor's
First job: Waiter – I worked in the service industry all throughout college.
First job in real estate or allied field: Massey Knakal, covering Newark, NJ territory.
What do you do now and what are you planning for the future?:I am an investment sales broker at B6 Real Estate Advisors. I work directly with our CEO, Paul Massey, as well as spearheading efforts in the Midtown East Territory. My goal is to become CEO or leader of the business sometime in the future.
How do you unwind from a busy day?:Workout – I love weightlifting, however I am always up for something that takes me out of my comfort zone and challenges me. I ran the NYC marathon last year and I plan to participate in a half ironman (70.3 miles) in a few months. Physical activity has always intensified my focus overall and helps clear my head. I can't live without it.
Favorite book or author: "The Hard Thing About Hard Things" by Ben Horowitz
Favorite movie: "Casino"
Last song/album that you purchased/downloaded?:"Superdream" by Big Wild
One word to describe your work environment: Collaborative
Rules to live by in business: There have been two echoing things that I've noticed through my experience. 1. No one owes you anything. If you live by this mentality you will never take anything for granted and will always want to be the hardest worker in the room or company. 2. Never let anything compromise your values. Your reputation is everything in our industry. It is my belief that if you hold firm to your values, always work diligently and put the clients needs before your own, you will have a long and successful life/career.
If you could invite one person to dinner (living or dead, but not related to you) who would it be and where would you go?:Robert Moses, Malatesta in the West Village.
What is your DREAM job? (something other than your current job):NY Mayor or President.