Professional Profile: Yuriy Moshes 2018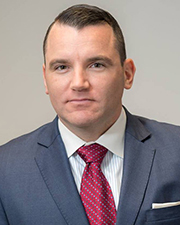 Yuriy    Moshes
Name: Yuriy    Moshes
Title: Founding Member
Company: Law Office of Yuriy Moshes, P.C.
Location: 517 Brighton Beach Ave., 2nd Floor, Brooklyn, NY 11235; 322 West 48th Street, 6th Floor, New York, NY 10036; and 111 Northfield Ave., Suite 208A, West Orange, NJ 07052
Birthplace: Odessa, Ukraine
Education: J.D. from Touro Law School, B.S. from Brooklyn College
First job outside of real estate: Data entry for a financial magazine.
What do you do now and what are you planning for the future? I am a real estate attorney practicing in New York and New Jersey. I am looking to expand my firm in the real estate practice and take on additional areas of practice for the firm.
How do you unwind from a busy day? I like to spend time with my children, I get involved in their sporting events. I am also a Crossfit Athlete.
Favorite movie: "Rocky"
Last song you purchased/downloaded? Anything by Muse.
One word to describe your work environment: Fast-paced
Rules to live by in business: Surround yourself with the right people
What is your dream job? I am doing it!