Professional Profile: Yaniv Kalish 2018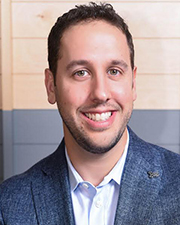 Yaniv Kalish
Name: Yaniv Kalish
Title: Founder & CEO
Company: SolarKal
Location: New York, NY
Birthplace: Haifa, Israel
Education: BSc. Mechanical Engineering - Tel Aviv University, MBA - Columbia Business School
First job outside of real estate: Hydraulic engineer
First job in energy or allied field: Solar energy developer for IPP Solar
What do you do now and what are you planning for the future? I am the CEO of SolarKal, a solar advisory for real estate owners and businesses. My future plans include guiding SolarKal into its next phase. We are going through an expansion right now in NY and NJ, with brokers and executives joining the team. SolarKal is helping to guide a lot of projects around the tri-state area in industries including food processing, commercial real estate and manufacturing. It is great to see how the energy market is transitioning from expensive fossil fuels to cheap renewable sources and are encouraged by the new policies and incentives being put into place by governors Cuomo and Murphy that support this transition.
How do you unwind from a busy day? Play with my daughter
Favorite book or author: "Guns, Germs and Steel"
Favorite movie: "Gladiator"
Last song you purchased/downloaded? I listen mostly to PodCasts. "How I Built This" is my latest one.
One word to describe your work environment: Exciting
Rules to live by in business: Be passionate, professional and thorough with everything you do. It's contagious and clients appreciate it.
What is your dream job? Professional soccer player