Professional Profile: Yaniv Cohen 2021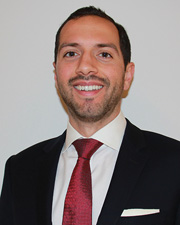 Yaniv Cohen
Name: Yaniv Cohen
Title: Principal
Company: Leviathan & Companies
Location: Manhattan, NY
Birthplace: Queens, NY
Education: Baruch College
First job: Selling candy and sodas on the main street in my town.
First job in real estate or allied field: Residential leasing at Keller Williams
What do you do now and what are you planning for the future? Currently, we have a ground up construction pipeline of about 200+ units in 3 of the 5 boroughs, so that keeps our hands full. We also have an in-house leasing, management and finance team which is growing by the day. Looking into the near future, we have a FinTech company currently under development that will be rolled out in the next few months which will be bringing transparency and efficiency to the commercial real estate senior debt lending marketplace across the country.
How do you unwind from a busy day? Spend time with my wife and daughter
Favorite book or author: "Mastery" by Robert Greene
Favorite movie: "CRASH" directed by Paul Haggis
Last song/album that you purchased/downloaded? "Daddy Cool" by Boney M. I sing it every morning for my daughter.
One word to describe your work environment: Educating
Rules to live by in business: All we have is our reputation, so stick to your word.
If you could invite one person to dinner (living or dead, but not related to you) who would it be and where would you go? Definitely Jonathan Gray from Blackstone and I would bring him to the dining room table of my house out in Long Island. He is a true visionary in our industry and I have no doubt we can talk for hours regarding his vision in thematic investing and the industry today.
What is your DREAM job? (something other than your current job) Very lucrative industry, but I have always dreamt of owning a chain of high-end lounge & restaurant's in major cities across the world.