Professional Profile: William Landsberg 2021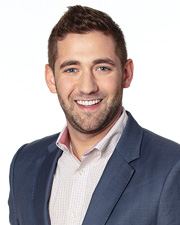 William Landsberg
Name: William Landsberg
Title: Associate
Company: The Kaufman Organization
Location: New York, NY
Birthplace: New York, NY
Education: Syracuse University, Martin J Whitman School of Management; Double major in Real Estate and Entrepreneurship
First job: Pizza delivery boy
First job in real estate or allied field: Internship at Thor Equities (Summer 2014)
What do you do now and what are you planning for the future?:I specialize in representing office tenants looking for new space, to renew at market rates, or offload their space (sublease). Always with the goal in mind of saving money or increasing operational efficiency, but ideally both. In the recent months, I had the opportunity to represent several tenants looking for new office space in Manhattan. Working with each company's goal in mind, I secured over 34,000 s/f of total leased space for companies including Allure Gems, R.B. Samuels and Lela Rose. This environment has not been easy, however 2021 is off to a productive start and I am confident it will only continue with more opportunities arising for Kaufman.
How do you unwind from a busy day?:Playing chess with my family, or watching the NY Knicks (if we are not losing too badly)
Favorite book or author: It is a summary called, "The Obstacle Is the Way" by Ryan Holiday. The real estate business can get tough at times, this is a quick read I always keep in my backpack to help me refocus and stay motivated.
Favorite movie: Happy Gilmore, can't beat a young Adam Sandler.
Last song/album that you purchased/downloaded?:What Could Possibly Go Wrong – Dominic Fike (2020 album)
One word to describe your work environment: Collaborative
Rules to live by in business: If the worst answer you will hear is no, what is there to lose?
If you could invite one person to dinner (living or dead, but not related to you) who would it be and where would you go?:Kobe Bryant, Minetta Tavern for the Black Label burger
What is your DREAM job? (something other than your current job):Professional golfer on the PGA Tour