Professional Profile: Warren Dubitsky 2023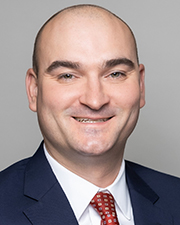 Warren Dubitsky
Name: Warren Dubitsky
Title: Partner
Company: Herman Katz Cangemi Wilkes & Clyne, LLP
Location: New York, NY
Birthplace: Dearborn, MI
Education: BA (Economics), Bowdoin College; JD, University of Notre Dame
First job: Camp counselor
First job in real estate or allied field: Deputy County Attorney at the Nassau County Attorney's Office, Tax Certiorari & Condemnation Bureau
What do you do now and what are you planning for the future? We're engaged in all areas where property taxation can affect our clients: assessment appeals, benefit applications, compliance, and due diligence. We are always looking for ways to leverage technology to improve client service and experience.
How do you unwind from a busy day? Spend time with my wife and three kids.
Favorite book or author: "All the King's Men" by Robert Penn Warren
Favorite movie: "Casablanca"
Favorite streaming series: "Ted Lasso"
One word to describe your work environment: Fast-paced
Rules to live by in business: The best leaders lead by example.
If you could invite one person to dinner (living or dead, but not related to you) who would it be and where would you go? Orson Welles, Musso & Frank Grill
What is your DREAM job? (other than your current job): Owner of the Detroit Lions.