Professional Profile: Victoria Bruno, 2019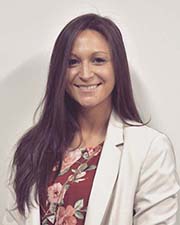 Victoria Bruno
Name: Victoria Bruno
Title: Business Development Manager
Company: KINGS Capital Construction
Location: Tarrytown, NY
Birthplace: Bronxville, NY
Education: Iona College, 2010 – BA in Mass Comm with a Concentration in Advertising
First job: Media Coordinator, TMPG Media Innovation
First job in real estate or allied field: Working here for KINGS
What do you do now and what are you planning for the future? Currently, my role at KINGS is to seek out new business and develop relationships in real estate and Construction within the tri-state area. I represent our firm at all relevant networking events through Westchester County to promote brand awareness. It's important for me and the success of KINGS to build relationships with developers, architects, engineers, and attorneys for a long-lasting, working relationship. As for my future, I plan to continue in the growth of our firm!
How do you unwind from a busy day? I "WINE-down" and reflect on my busy day.
Favorite book or author: "Extreme Ownership" by Jocko Willink & Leif Babin
Favorite movie: I cannot choose just one, I am a true movie-junkie!
Last song/album that you purchased/downloaded? My music preference depends on the mood I'm in.
One word to describe your work environment: Diligent.
Rules to live by in business: "Discipline. Ownership. Execution."
If you could invite one person to dinner (living or dead, but not related to you) who would it be and where would you go? I would invite Sophia Loren to eat Sunday dinner with my big Italian family.
What is your dream job? I would be a professional world traveler critiquing hospitality and restaurant venues. (A girl can dream!)